Why we need to adopt nature-based solutions when designing streets
Urgent action is needed to make our streets climate-resilient, and there are myriad solutions available that can be deployed which won't cost the earth, writes Habib Khan
27 September 2023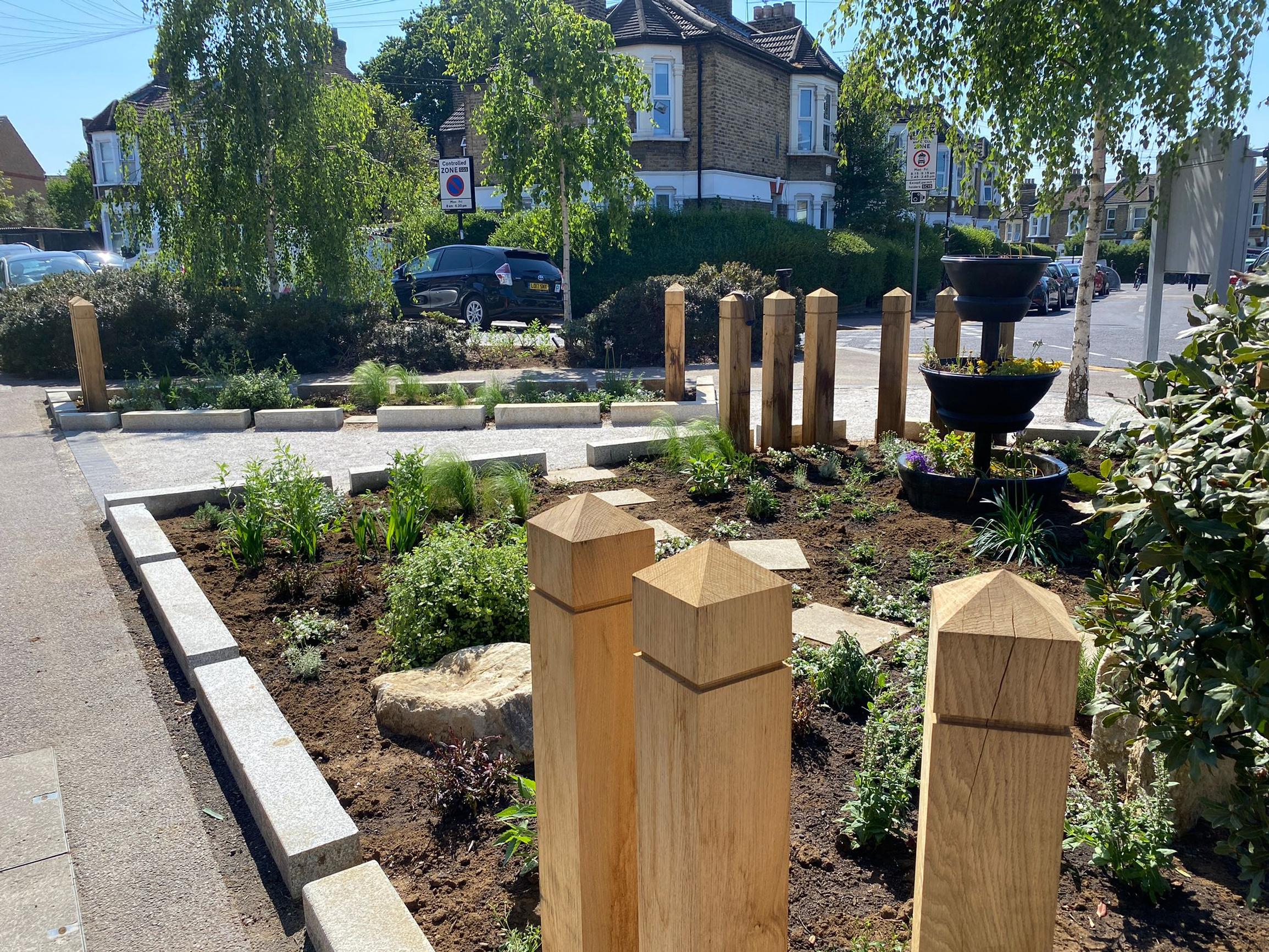 As the global climate crisis accelerates, it becomes crucial to rethink and reengineer the spaces we inhabit and traverse daily. The streets in our cities are vital parts of our neighbourhoods, allowing people to move around, do business, and connect with each other. Yet, they are often overlooked when we discuss climate adaptation and sustainability.
Climate-resilient streets incorporate green and blue solutions to reverse the negative effects of the built-up environment. The key is to design streets with nature-based solutions.
What are climate-resilient streets?
Climate-resilient streets are designed to withstand and adapt to the increasing and unpredictable impacts of climate change, such as extreme heat, heavy rainfall and flooding. They employ 'green' features like trees, green roofs, living walls, green screens and porous pavements, which not only capture carbon but also provide shade.
Meanwhile, 'blue' elements such as SuDS [Sustainable drainage systems], rain gardens, Swales [shallow, broad and vegetated channels designed to store and/or convey runoff], retention basins, and specially designed water channels help manage water distribution and reduce flood risks.
Due to climate change, our towns and cities are experiencing far more regular flooding than ever, causing a huge amount of damage to property, roads and schools.
Further downstream, these floods result in the discharge of raw sewage into our rivers and seas and rural fields being flooded causing loss of harvest.
To expand the existing sewer capacity will take many years and cost billions of pounds.
A far quicker, cheaper and more environmentally friendly solution is to use SuDS.
Making a difference
Environmental Impact
The incorporation of natural elements into street design has a demonstrable effect on local air quality and temperature. Greenery absorbs pollutants and emits oxygen, while rain gardens allow water to seep through, reducing run-off and promoting groundwater recharge. The blue solutions help to manage excess water, directing it where it can do the least harm or even be used beneficially.
Installing SuDS schemes with green infrastructure also is a great opportunity to attract biodiversity by incorporating bee friendly planting schemes.
Health and wellbeing: Urban heat islands are a significant concern in many cities, exacerbating the health impacts of heat waves. The shade from trees and other green features can significantly reduce temperatures, creating a more comfortable environment and reducing the burden on healthcare systems.
There is also the opportunity for community engagement by involving local residents when designing and planting rain gardens on residential streets. There are many examples of these schemes being adopted by the local community and gardening groups. This also reduces ongoing maintenance for the local authorities.
Economic benefits: Climate-resilient streets are cost-effective in the long run. Reduced damage from extreme weather events, lower healthcare costs. Homeowners in flood prone areas are finding it difficult to get insurance cover due to repeat flooding and it can have a devastating effect when trying to sell their property.
These streets are often more pedestrian-friendly, encouraging people to walk or cycle, thereby fostering a sense of community. Moreover, aesthetically pleasing elements like plants and water features can turn ordinary streets into community landmarks.
Habib Khan is founder and director of Meristem Design. He will be speaking at Climate Resilient Streets on 30 November
He will be speaking at Climate Resilient Streets in London on 30 November.
More details here:
https://www.landorlinks.uk/climate-resilient-streets
Join the debate on climate resilience
The inaugural Climate Resilient Streets conference takes place in London on 30 November. It will focus on green and blue solutions to combat flooding in our urban areas caused by climate change.
The programme brings together UK's leading specialists from a range on disciplines including engineers, drainage specialists, academics, council officers, government officials, utility providers and urban landscapers.
Climate Resilient Streets will cover:
SuDS Rain Gardens, planters and basins
Bio swale, soakaways, Blue Green roof systems
Community-managed SuDS schemes
SuDS funding streams
How to engineer SuDS solutions
Rainwater modelling and monitoring
How to choose the correct planting for SuDS schemes