Rahman set to honour pledge to remove Tower Hamlet's Liveable Streets
14 September 2023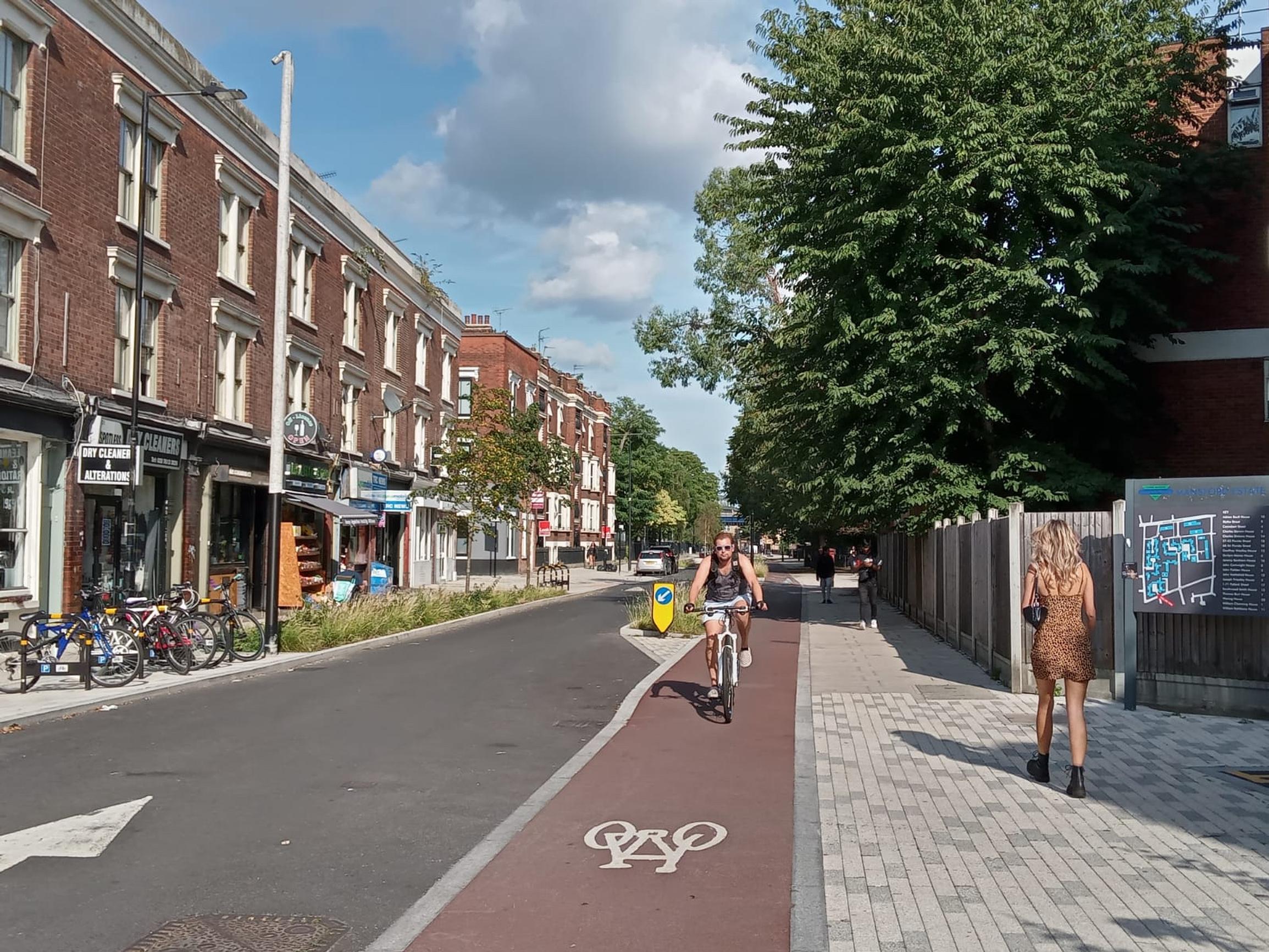 Mayor of Tower Hamlets Lutfur Rahman appears on the verge of honouring his pledge to take out the borough's Liveable Streets schemes.
Tower Hamlets Council will decide at a cabinet meeting on 20 September whether or not to remove the road closures introduced as part of the borough's Liveable Streets programme.
Prior to his election as mayor in May 2022, Rahman said he would remove the schemes. His Aspire party won a majority, replacing the Labour administration, which had introduced the Liveable Streets to tackle congestion and air pollution and to encourage more residents to cycle, walk and use public transport.
In a cabinet report, published last week, the council set out the three options it was now considering:
• Option 1: Scrap Liveable Streets schemes on Old Bethnal Green Road, Columbia Road and Arnold Circus, removing road closures and making one-way sections two-way again.
• Option 2: Full retention of the current Liveable Streets scheme
• Option 3: An amended version of Option 1, with some of the Liveable Streets changes being retained, including some road closures and one-way systems, plus ANPR-enforced modal filters.
A public consultation carried out by the council at the start of this year received more than 4,300 responses, with over 1,800 from respondents within the scheme areas.
In the Old Bethnal Green Road area, 41% (332) of residents from within the area supported Option 1 while 59% (442) supported Option 2.
For the Arnold Circus and Colombia Road areas, 42% (332) of residents from within the area supported Option 1 and 58% (454) supported Option 2.
The Liveable Streets scheme for Old Bethnal Green Road area was introduced as an Experimental Traffic Order (ETO) in June 2020 and was made permanent in December 2021.
The scheme for Arnold Circus and Colombia Road areas was introduced as an ETO in February 2021, amended in July 2021 and made permanent in April 2022.
The council said that feedback since then has highlighted "a series of adverse impacts" including access for people reliant on vehicle use for services such as medical appointments as well as access to families and support network.
"There has also been hindered access for emergency access vehicles particularly around Arnold Circus and Old Bethnal Green Road," said the council. "Data also shows that there has also been an impact on some local bus services, and of displaced traffic on surrounding roads and streets."
The council reported that traffic on Old Bethnal Green Road has dropped by 86% eastbound and by 70% westbound. The western end of Columbia Road also saw a reduction in traffic of 53% eastbound and 59% westbound.
"There were, however, streets which saw increases in traffic," said the council. "The most significant roads from this list are Swanfield Street and Virginia Road which saw northbound traffic flows increase 209% (960 vehicles) and 55% (248 vehicles) respectively. Smaller densely populated residential roads such as Horatio Street with 70% (202 vehicles) increase in the northbound direction and Ropley Street with 89% (493 vehicles) in the northbound direction. These are directly attributable to the closures of the junction of Gosset Street, Arnold Circus and Columbia Road."
Monitoring of air quality within the scheme and boundary roads revealed "significant reductions" in NO2, said the council. "The data showed significant reductions between 2019 and 2022 across the borough, including the roads on the boundary and within Bethnal Green.
"Comparing the two sets of data, there is an indication that most of the reductions in NO2 emissions are due to ULEZ [Ultra Low Emission Zone] and cleaner vehicles as significant reductions in NO2 emissions have also occurred across the borough. But the slightly greater reduction in the scheme area can be attributed to the traffic reduction observed around each of the monitoring sites."
The council estimates it will cost £2.5m to remove the schemes (Option 1) or £1.2m to partially remove them (Option 3). "It is anticipated that some of this expenditure will result in new assets and therefore will be capital in nature, with the investment falling in 2023/24 and 2024/25," said the council.
Transport for London (TfL) has urged Tower Hamlets Council to retain the Liveable Streets schemes. In the case of Old Bethnal Green Road, it said that improvements made to safety through the delivery of walking and cycling infrastructure complement the bus network.
"While we acknowledge the concerns raised about potential negative impacts on bus journey times, in line with our Vision Zero approach to road danger we firmly support retention of the LTN on Old Bethnal Green Road to promote active travel and reduce road danger, traffic congestion and air pollution in the area," said TfL.
It has offered both funding and resources to progress further bus priority measures on Hackney Road to address any impacts caused by the LTN. "These measures would improve the efficiency and effectiveness of the bus network, especially for bus passengers who may not have access to, or the ability to use, other modes of transport."
The removal of the Columbia Road/Gosset Street scheme would have a "significant negative impact on safety and beneficial active travel by allowing through traffic and by removing the high-quality, pedestrian-friendly urban realm area", said TfL.
Meanwhile, the planters on Arnold Circus have successfully reduced traffic levels and prioritised safety for walking and cycling, while creating some operational issues for buses, said TfL.
Simon Munk, head of campaigns at the London Cycling Campaign, told LTT: "Residents support the schemes – they want to keep them, according to both consultations run by Tower Hamlets council. Despite that, the council still seem intent on weakening these schemes down to as little as they can get away with.
"What's striking here is that most of the negatives claimed for the scheme simply don't add up, aren't supported by TfL, and many of those claimed could be dealt with easily by replacing some physical filters with ANPR cameras."
Munk added: "In a climate crisis, it is heartbreaking to see car-centric politicians putting driving convenience for a small minority above the needs of the many, the views of most residents and action on climate, pollution, inactivity, and road danger. The decision the council seem set on would also cost millions to rip out schemes, while likely costing the borough future funding too."