Biggest obstacle to active travel is fear of change, not funding, says Boardman
14 July 2023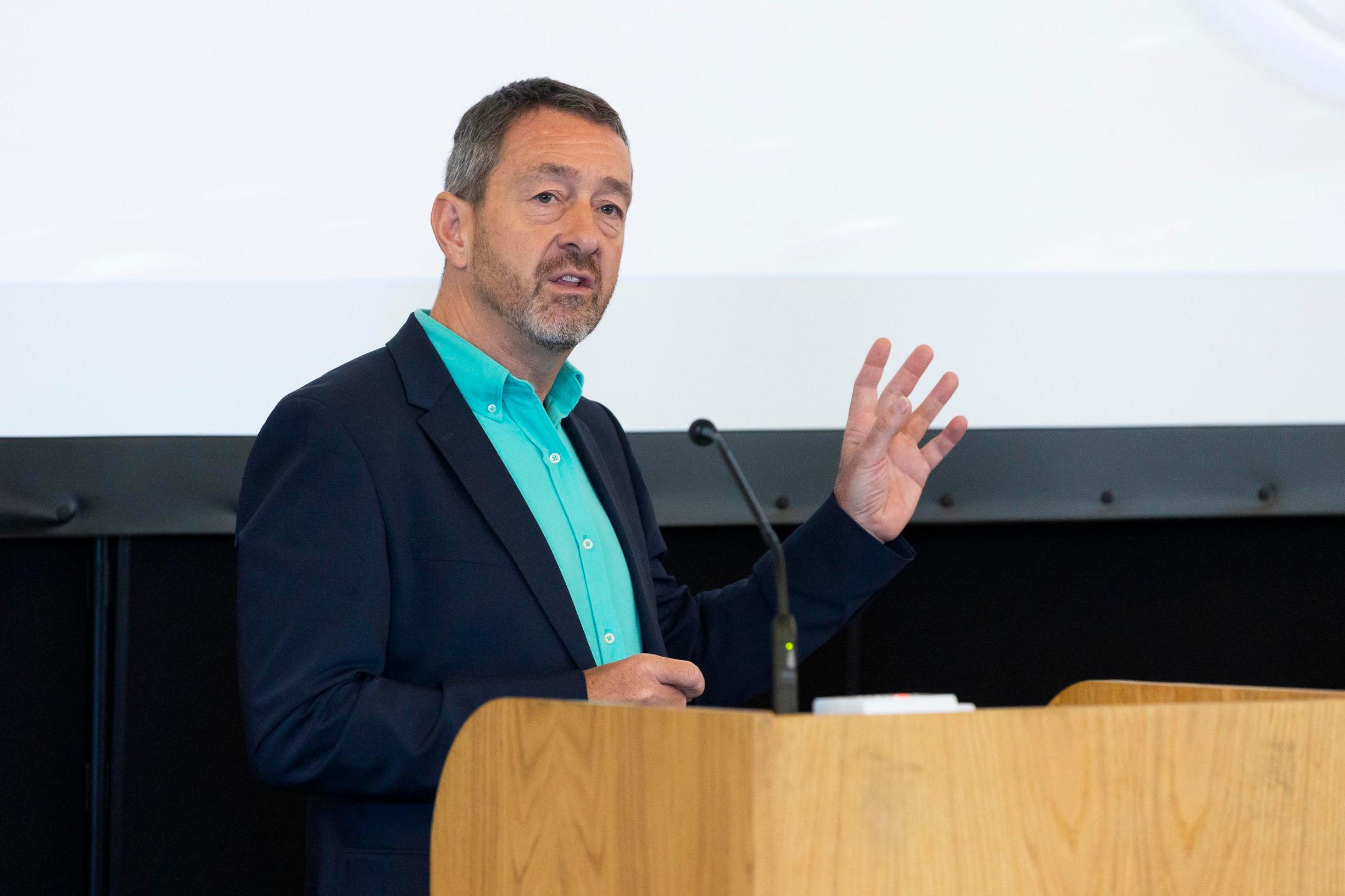 Fear of change rather than funding cuts is the biggest obstacle to getting more people to cycle and walk for everyday journeys, believes Active Travel England's commissioner Chris Boardman.
"I don't think our biggest problem is money," he said at Cycle County Active County last week. "I think it is fear of change and upsetting people and a supportive silent majority.
"We need to talk about the outcomes and about transport independence for kids, safety issues and saving money. It is about finding a common language with people, convincing them and speaking with them about things they value."
At the event's opening plenary, Boardman was asked for his reaction to the Government's decision in March to cut spending on active travel in England from £308m to £100m over two years.
"In terms of how money is spent that is certainly above my pay grade," he said. "We know that we are in an incredibly difficult financial situation and money has got to be saved. That is not my decision - we work with what we have."
But Boardman struck a positive note – stating that ATE would make a difference as it was now a "voice within the system", he told delegates at the two-day event, hosted by Oxfordshire County Council and organised by Landor LINKS.
"We are finding ways of working with health and planning, and liaising with National Highways. A lot of the time the absence of a voice [for active travel] meant that people didn't see the severance that was being caused by a road scheme."
Boardman recounted his time as Greater Manchester's cycling and walking commissioner between 2017 and 2022. He pointed to his work with the city region's mayor Andy Burnham, who backed plans for a 1,800-mile 'Bee Network' of walking and cycling routes.
"When I started at Greater Manchester [Combined Authority] we didn't have the money. I identified 100 different funding streams that we could tap into and said, it will cost £1.5bn," said Boardman. "We asked the question that is never asked: what happens if we don't do it? What about the £500,000 a week being spent on inactivity in Greater Manchester - can we afford that? It is not a case of: where is the extra money to do it? We have to do it, and there are ways when there is political will."
Boardman praised Oxfordshire County Council for pressing ahead with implementing low traffic neighbourhoods (LTNs) in the face of vandalism, abuse and threats from opponents. "Whether you like it or not, you have become the epicentre of change," he told Oxfordshire councillors.
"You have stood up to all the rhetoric and vitriol and stuck to the facts, in wanting to give people a better life. I guarantee you that in two years' time people will fight you just as hard if you try and take things away. It's not hyperbole to say that the country needs you to do this - to create examples on such a scale."
The former gold medal winning Olympic cyclist expressed frustration that children in the UK do not have the freedom to travel independently unlike many of their counterparts in the Netherlands. "It makes me angry that children here can't come and go as they please safely and in an affordable way."
Boardman said he was seeking to channel his anger into positive action through his work with ATE, which was set up a year ago. There was no shortage of evidence that many more short car journeys could be done by cycling or walking, he said.
"Evidence is like the foundations of a house. You have to have the foundations before you build anything but nobody buys a house because it has great foundations. No one talks about foundations - it's about emotion."
He referred to an article by transport planner and urban designer John Dales (Inconvenience Truths) published in August 2020.
"He hit the nail on the head," said Boardman. "Loss aversion is the thing we are up against. We feel loss very acutely, much more than the potential for gain. That's why it is important to re-direct this fear of loss into a fear of missing out on getting better streets."