Welcome to the cashless car park
Sagoss has created an ANPR-enabled, coin-free pay-on-foot solution in a Rochester car park for Medway Council
10 May 2023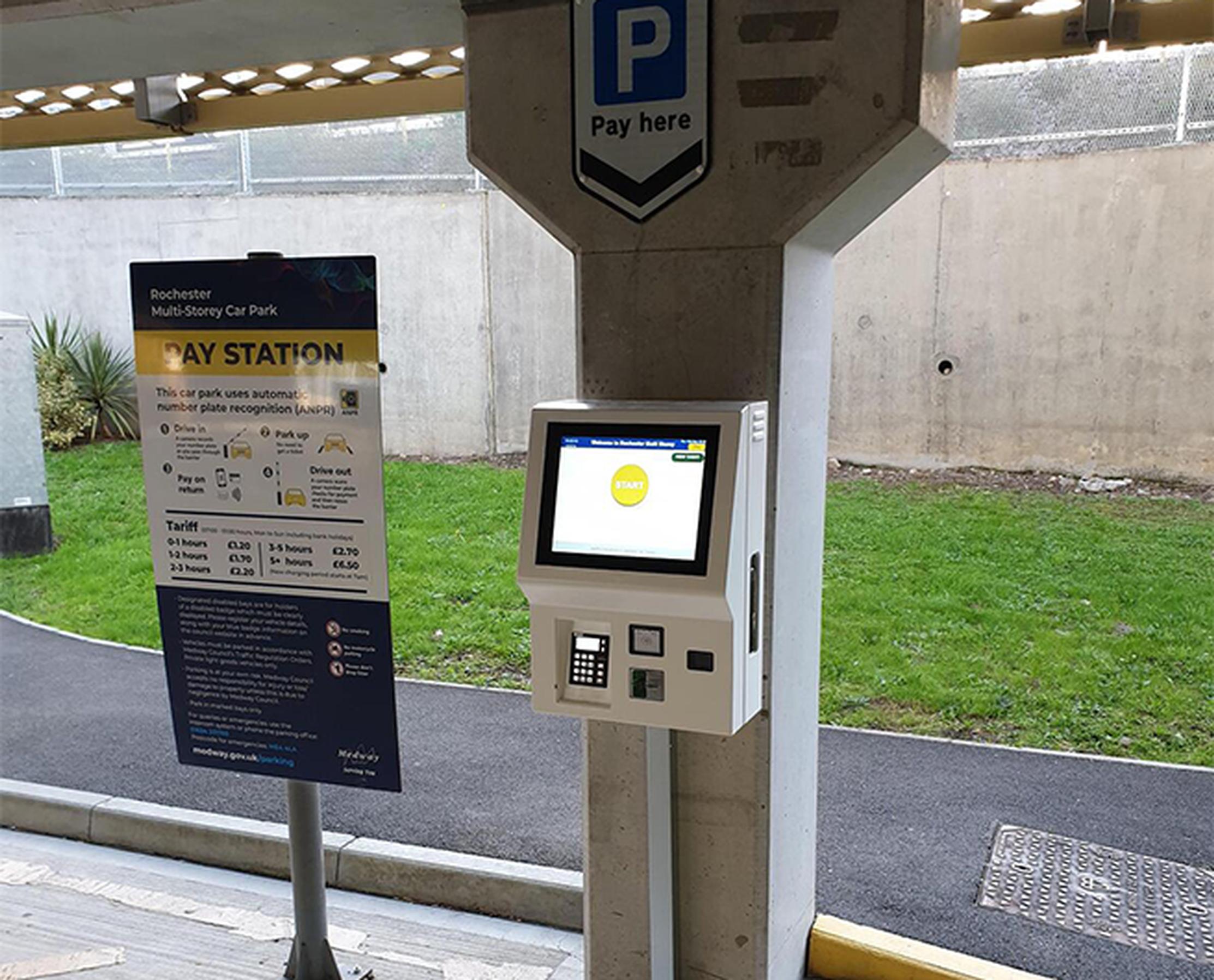 We live in an increasingly cashless society, with the use of contactless cards, online orders and smartphone apps replacing coins and banknotes as the means by which people pay for goods and services.
The parking sector has been in the vanguard of the transition to cashless payment. While most parking providers still provide cash options for drivers in the forms of coin accepting terminals in car parks, in some locations the shift towards card, online and phone-based transactions has been so marked that it no longer makes sense to provide cash accepting terminals. This presents an opportunity to make savings via reduced machine maintenance, an end to coin collection and repairing the after-effects of attempted theft.
Such a scenario is taking place in the Kent town of Rochester, where a major car park has moved to totally cashless operation following analysis of usage patterns that revealed most motorists paid for their parking using cashless. This trend prompted Medway Council to convert the Rochester Riverside multi-storey car park to a completely cashless operation. Drivers using the site have the choice of paying by card, phone app or on setting up an account linked to automatic number plate recognition (ANPR) cameras.
The journey to cashless
The 300-space Rochester Riverside multi-storey car park was built adjacent to the new Rochester rail station and opened in 2021. The site originally offered drivers the choice of paying via pay & display terminals complemented by a mobile phone service.
During 2021 a decision was taken to make site ticketless. This saw car park converted from P&D to an ANPR based pay-on-foot system devised and supplied by Sagoss. This complemented pay-by-phone using either the Go Mobon app or RingGo Pay Later system.
Drivers were able to park their vehicle and then, when they are ready to leave, enter their registration details at the terminals and pay for their parking using card or contactless. No ticket was required because the ANPR system would identify a vehicle as having paid for its stay as it approached the exit barrier.
The move to ANPR in a council car park required the use of a barrier system because, unlike private sector operators, local authorities lack the ability to request keeper details for vehicles captured on car park ANPR systems from DVLA. A barrier-controlled operation means that the council can both harness the ability of ANPR to connect transactions to a vehicle registration mark (VRM) and ensure that drivers have paid before their vehicle exits the site.
During 2022 it became evident that almost all Rochester Riverside's users, some 98%, were opting for cashless options, either card payment at the terminals or using the phone, app or account options. The council thus decided the coin payment option would be completely removed. The coin and card payment kiosks were replaced with a pair of card-only touchscreen terminals chnology that accept payments via credit or debit cards using contactless or insertion chip and PIN.
Cllr Phil Filmer, Medway Council's portfolio holder for frontline services, said: "Since the pandemic, there has been a reduction in the number of people who pay for their parking using cash. Since January 2022, only 1.7% of motorists who use this popular car park have paid for their parking using cash. There are a number of ways that motorists will be able to pay for their parking including using their phones and setting up an online parking account. Following a successful ANPR pilot at the Rochester multi-storey car park, we introduced cashless parking in November 2022."
How the system works
The exit management kiosk automatically presents the driver with their parking fee. As the car park is paperless, receipts can be downloaded as a PDF via a QR code. The ANPR cameras automatically raise the barrier as motorists exit.
People can sign up for an online parking account and AutoPay option, which will record when a registered vehicle enters and leaves the car park and automatically bills the account holder's payment account without the need to go over to the kiosks. Drivers register for the autopayment account via a council branded portal hosted by Sagoss. Drivers can also purchase season tickets online via the council's parking website.
The season ticket service is hosted on a Sagoss back office service called BlinkEnterprise.
Looking ahead
The coin and card payment kiosks removed from Rochester Riverside have been redeployed in other car parks where new Sagoss systems have also been introduced.
Residents with electric, or hybrid, vehicles are able to park in the car park for free between 6pm and 8am Monday to Sunday, if they are charging their vehicles using the available EV charging points. To benefit from free parking, residents have to register their vehicle online to give them ticketless access. Motorists need to pay to charge their vehicles.
Richard Parsons, Sagoss' national sales manager, said: "Because of the high reliability of the Sagoss system and its customer support features, the council has discovered that the car park requires very little support or attendance. With the Sagoss system, it is possible for the 'support officer' to remotely manage the kiosk in full. The support officer can input the drivers' VRM, select the driver's vehicle and generate a receipt, if needed. The driver only needs to use their credit/debit card as everything else, as regards the payment process, can be managed by the officer."
The Sagoss system included an ITSME exit management kiosk. Parsons explained: "If the driver had failed to pay for the parking at one of the payment kiosks, then the ITSME will present the VRM of the driver's vehicle when they arrive at the exit lane, advise the driver of their parking fee, and accept payment via a credit or debit card."
Sagoss will be showing its suite of products at Parkex 2023 on stand P210.