UKIB to work with Glasgow to develop Clyde Metro plan
25 April 2023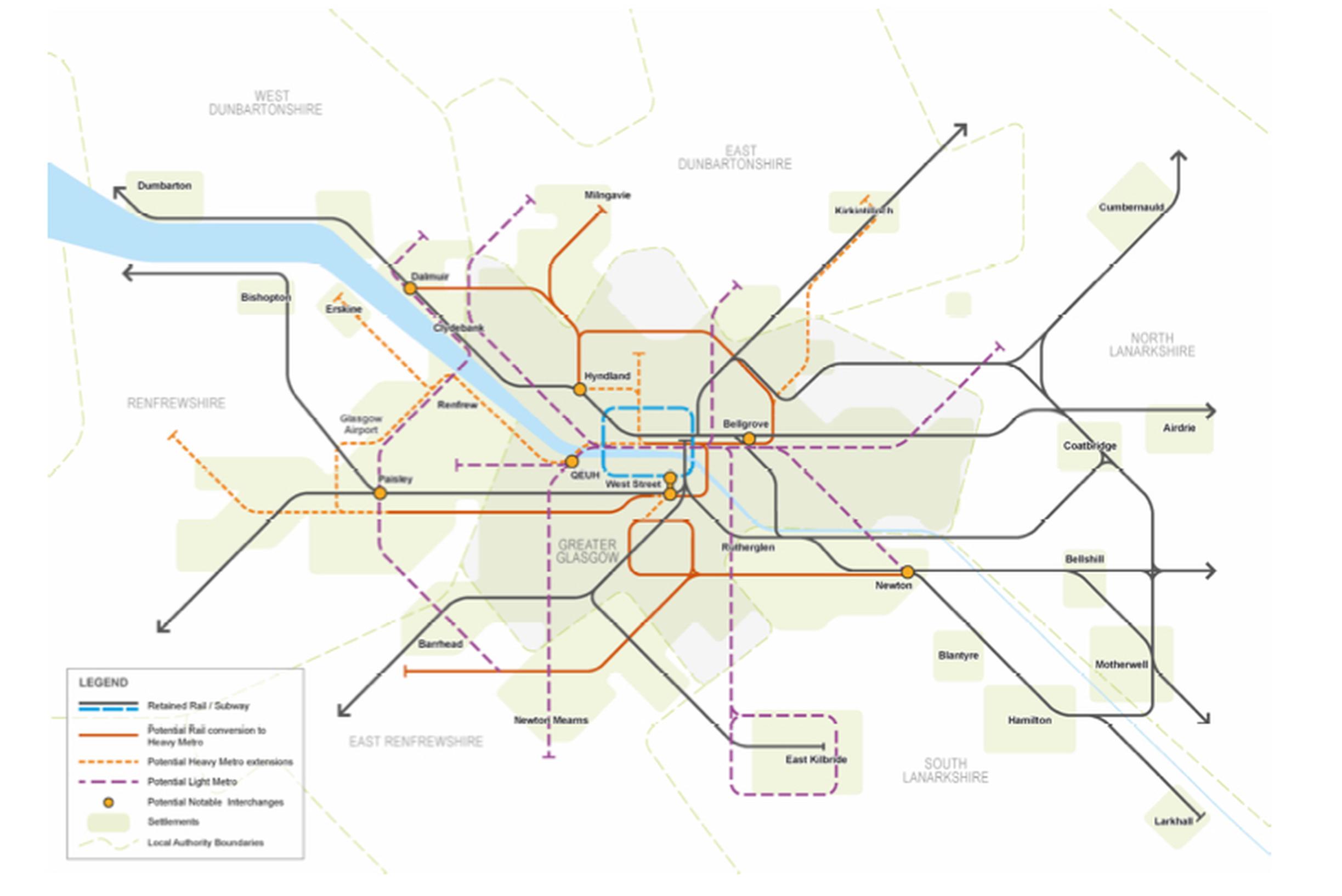 Glasgow City Council and UK Infrastructure Bank (UKIB) have formed a partnership to develop financial and commercial plans for Clyde Metro. The proposed mass transit system is one of the flagship projects in the Scottish Government's second Strategic Transport Projects Review (STPR2).
UKIB has already run a series of workshops with regional stakeholders and representatives from the public and private finance sector to explore funding options for mass transit in the Glasgow City region.
"Clyde Metro, which represents a multi-billion-pound investment over a 30-year period, could better connect more than 1.5 million people to employment, education, and health services in and around Glasgow," said the council.
The programme would involve "one of or a combination of bus rapid transit, light rail and metro rail". These options would complement the service provided by traditional railways and may include the conversion from existing railways to light rail or metro rail, suggests the review.
It encompasses different forms of mass transit, potentially including bus rapid transit, light rail and metro rail. The review envisages a metro system up to around 15km from the city centre, which would "target areas where connections are currently poor, including places where there is deprivation".
The Metro would "address the gap in public transport provision" in the Glasgow City region, says the review. It would allow "more effective rail operations, creating capacity for longer-distance high speed rail connections and providing connectivity between areas of deprivation and education, employment and leisure opportunities".
Susan Aitken, leader of Glasgow City Council and Chair of Glasgow City Region Cabinet said: "Clyde Metro will be transformational across the west of Scotland, a catalyst for major economic growth and development, and social and educational opportunities while also making a huge contribution to our decarbonisation agenda.
"This collaboration with UKIB will help us further explore those critical funding and investment options for Clyde Metro, inform early engagement with potential partners and identify the financial structures necessary to support large scale mass transit projects and the wider net zero transition agenda.
"In progressing the vital discussions around the resourcing of Clyde Metro we can then begin to talk to our citizens about routes and destinations, about timetables for delivery and about the transformational benefits it will have for them and their communities."
John Flint, chief executive of the UKIB, said: "Local authorities have a pivotal role to play in the journey to net zero and supporting regional and economic growth - the twin missions of the Bank.
"It is a privilege to work with Glasgow so we can better understand how the bank can help local authorities to build the capabilities and financial expertise they need to drive the transition to a Net Zero, climate resilient, thriving economy."