Living Streets reveals cost of dangerous pavements
Pedestrian falls cost taxpayers as much as £500m a year
01 March 2023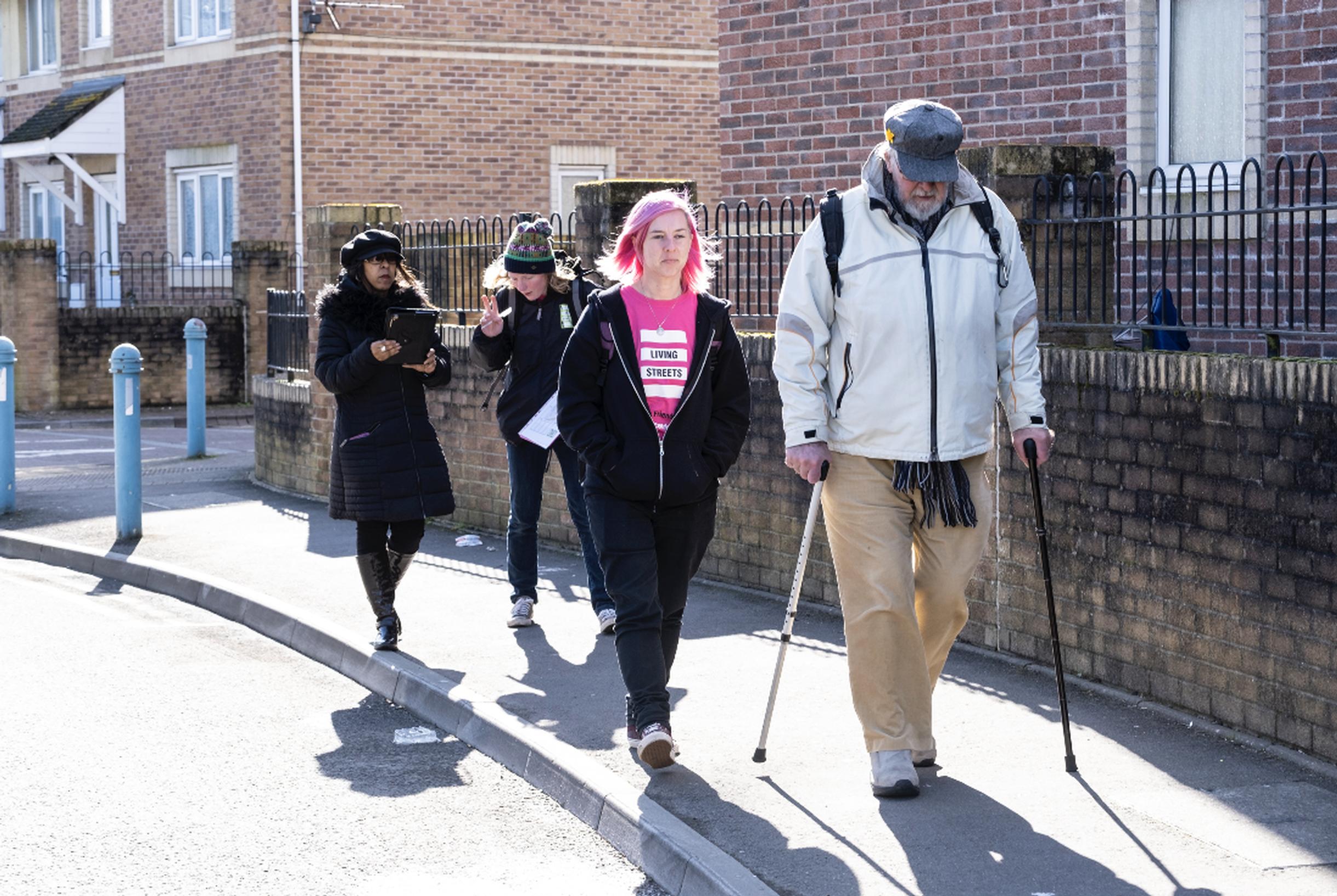 Pedestrian falls cost taxpayers as much as £500m a year, says a new report from Living Streets. The charity, which champions everyday walking, estimates that £1.69bn is needed to repair pavements or maintain them in their current condition
Pedestrian Slips, Trips and Falls is published by walking charity Living Streets investigates the nature and scale of slips, trips and falls on our pavements based on a literature review, street reviews, local authority surveys, interviews with highway officers and hospital admissions data.
The report highlights the need to protect streets for the 11 million older adults (aged 65+) living in the UK.
Around a third of people aged 65 and over, and around half of people aged 80 and over, fall at least once a year. Although research is limited, it is estimated that 10% of people over 65 will fall outside, which means there could be as many as a million outdoor falls among older adults (65+) in England each year.
Nearly one in three (31%) older adults are put off from walking because they worry that they will fall on uneven and poorly maintained pavements, with half (48%) saying they would walk more if pavements were better maintained.
By 2030, one in five people in the UK will be over 65 and the fastest growing age group will be 85+ years. Falls are a leading cause of injury-related deaths and hospital admissions among older adults and can result in the person who falls becoming homebound or institutionalised.
Footway faults such as broken ironworks, surface defects and damaged street furniture are trip hazards. An estimated £1.69bn is needed to repair pavements or maintain them in their current condition.
The report was written by Dr Rachel Lee, policy and research manager at Living Streets. "Poor pavements have a real cost with hospital admissions due to trips and falls placing a huge burden on NHS and local authority budgets," said Dr Lee.
"Prevention is better than cure. We need to prioritise funding for safe and hazard-free pavements, so older people can enjoy the health and social benefits that come from walking."
The report was funded by the Department for Transport and Living Streets makes recommendations on what the government could be doing to address the challenges and inspire people to walk more, including better data collection and prompt treatment for injuries to help people get back on their feet quicker.
To download a copy of Pedestrian Slips, Trips and Falls: an evaluation of their causes, impact, scale and cost click here
Key recommendations
1. Standardise and improve data collection across healthcare settings and local authority CRM networks
a) Devolved administrations should review the coding of falls outdoors for hospital admissions. The new Emergency Care Data Set introduced in 2020 may mitigate the deficiencies in current data collected outside England.
b) The Department for Transport should establish a standard classification of footway faults, and of fall causes and falls injuries consistent with the external cause codes and primary diagnoses recorded for admitted patient care. This would allow comparison across NHS and local authority datasets.
c) Highways authorities should record the location of all pedestrian falls reported to them; this would include the subset of falls leading to personal injury claims. This is a matter of best practice for all local authorities.
d) Highways authorities should make falls location and injury data publicly available and consider its use as a performance measure.
2. Prevention is better than a cure. Integrate costs to transport and health budgets, to set funding priorities that deliver the best value for money:
e) The Department for Transport and Department of Health and Social Care should carry out a system wide analysis of the healthcare costs of outdoor falls in older patients – making sure to capture the cost of local authority funded social care. Use this to establish a common methodology for local authorities to carry out their own assessments and/or provide baseline care costs.
f) The Department of Transport should sponsor the update of the UK Road Liaison Group's 'Asset Management Guidance for Footways and Cycle Routes' to include the health and social care costs of pedestrian falls as well as the costs of injury claims.
g) Active Travel England should work with local authorities and other bodies to develop a nationally consistent dataset of footway infrastructure.
3. Prompt treatment for falls injuries and rehabilitation helps people back on their feet sooner and could reduce health and social costs in the long term.
h) Further research could explore support options for pedestrians injured on footways as soon as injuries are reported, irrespective of the outcomes of personal injury claims.
i) Most pedestrians will not make claims but might benefit from support in regaining confidence in walking outside.