Reimagining rail stations
Tomorrow's rail passengers may not look and behave like the traditional commuters of the past. Leisure travellers and digitally demanding millennials have specific requirements such as extra luggage space, always-on connectivity and room for cycles and scooters. And with decarbonisation targets on the horizon, stations ­– in their new roles as integrated transport hubs – will be key to unlocking social, economic and environmental value for communities
06 February 2023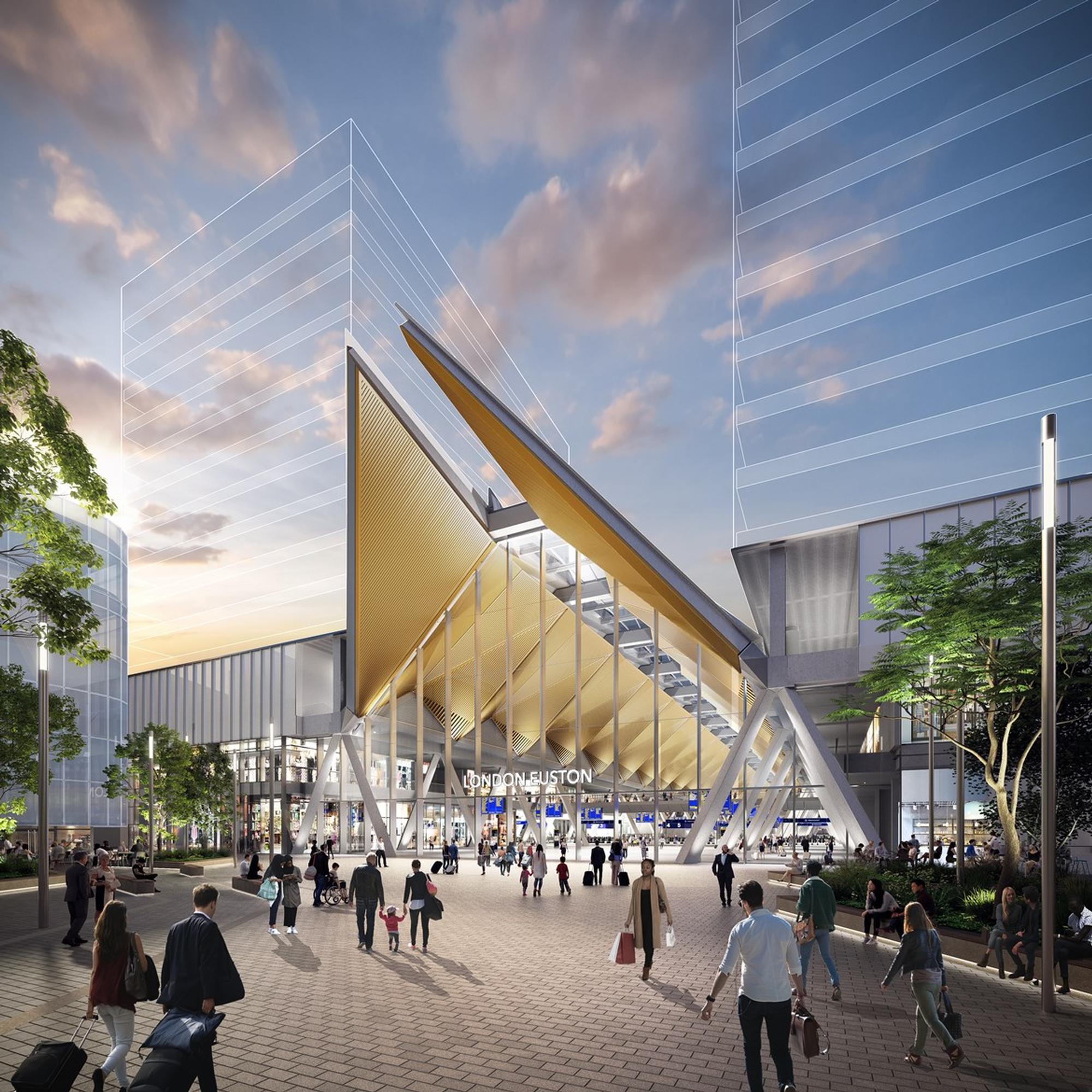 Rail stations are changing in line with changing travel, social and economic trends. New design thinking, new technologies and new economic realities are driving the change as much as evolving travel trends. The past few years have seen several initiatives aimed to accelerate the process: Network Rail's Re-imagining Railways 2020 Competition, ExploreStation from the Design Council and HS2's Future Stations Living Lab, for example.
---
Meet Open Space Group and 7N Architects and more at Rail Stations and Property 2023, with limited free places for local authorities – reserve yours here
---
Placemaking around stations is back on the agenda, as the design and management of the built environment in and around a station. "Making these areas safe, accessible and welcoming, and generally more pleasant gateways for people arriving into a town or city, and to spend time in, can do a great deal to help drive economic growth and, in turn, encourage a return to the railway," says Elaine Seagriff, Director of Strategic Planning at the Great British Railways Transition Team (GBRTT).
"By thinking beyond the 'gate line' and embracing the environment our stations are in, we have the opportunity to support the creation of centres of activity that will attract people to places, support economic growth and improve pride in place," she says.
One of the winners of the Re-imagining Railways competition, 7N architects, has just such a vision for stations as community hubs as well as transport hubs that "will be a focal point for the community". In their vision, the station environment extends well beyond the platform "to create civic spaces to welcome travellers and provide a placemaking framework to accommodate a diverse mix of permanent and pop-up uses which will give local people and visitors a reason to gather and linger" ­– a 'welcome mat' of public realm, as they put it.
Improving the passenger experience
Alongside improving stations as places, improving the passenger experience is also a key aim of rail professionals, and embracing developing new technologies is one of the main ways to do this. "Innovation certainly plays a key part in the overall picture for our stations," says Mike Luddy, Commercial Development Director, HS2. In the past, Luddy worked on the development of St Pancras Station in London. "The basis of the model there was to have a better understanding of current and future customers so that we offered them what they wanted." We didn't do the easiest deal with retailers and food and beverage operators and hope the customer liked it, he says. "With HS2 we're investing in customer insight.
"By the time our stations open, 85% of our millennial customers will expect quality digital connections, and they also want to connect with their stations as places that are connected, in turn, to the local community."
The Future Stations Living Lab project, led by OpenSpace Group in collaboration with Network Rail, Avanti West Coast and the University of Birmingham as part of HS2's Innovation Accelerator programme, has been a key part of the innovation Luddy describes.
This project marks the first time a train operator has collaborated with infrastructure providers and academia to focus on a passenger-centric station design using digital twin technology. OpenSpace Group Ltd Founder and CEO, Nicolas Le Glatin, said: "This innovative collaboration will help forge a new chapter in station design and operations, fusing an array of emerging digital twin technologies for the benefit of customer experience."
We aim to minimise the amount of "processing" that passengers and customers while using stations, adds Luddy, and maximise both enjoyment and dwell time. "We are thinking about one single digital platform that that the customer can interact with across the station, from buying a ticket, travelling through the station, getting platform information and news about goods and services in the station, on the train and at their destination."
The first customer experience strategy for HS2 was developed in 2018, and it focused on the customer being relaxed and connected. "We've made a lot of progress since then," says Luddy.
"There has been a massive change as commuter numbers have dropped off and the levels of leisure customers have increased. We're having to think about that: do we have the right capacity for baggage? Do we have the right lift capacities? Do we have the ability to manage those customers who are going to be in our stations for longer than a commuter would?" We will have customers spread throughout the day and if they are stressed then they're not going to want to relax, shop and eat, he says.
Social changes are also directing the future of HS2 stations. "The market has changed, probably forever. We need to think about our fare offer so that we can get people out of cars and onto trains. There is a big focus on carbon strategies for our stations, which will be some of the most sustainably operated in the world. We are influencing designs to ensure that solar power and rainwater harvesting are all part of the mix. This is important to us as our future customers will demand that we operate as sustainably as possible, and we have to respond to that."
Unlocking social, economic and environmental value
"The railway must make cost savings and become more financially sustainable, so we need to be creative and look, with our local and regional transport partners, at what funding sources there are for financing local improvements.
"Land value capture, for example, where landowners, developers and property owners are charged a levy associated with the increase in the value of the land due to the investment in transport infrastructure which can be reinvested into services that benefit local communities," says Seagriff of GBRTT.
Transport for London (TfL) is responding to the need for financial sustainability. In 2021, Transport for London published proposals for a "dedicated, self-financing property company" to deliver housing. This led to the setting up of TTL Properties Limited (TTLP), which became financially separate from TfL on 1 April 2022. One of its key objectives is to "pay a dividend to TfL to help reduce subsidies". Might HS2 be thinking along the same lines, I wonder?
"Yes, we will," says Luddy. "But we do need to differentiate ourselves from TfL. HS2 is a currently a delivery company, but there will be a team in future who will manage stations and assets. The situation regarding the land around our stations, currently used for works and depots, will become clearer after construction. We're working with the Department for Transport to see how that might evolve. It could be that we create a model like TfL that looks to generate revenue from regeneration, or it could be we just simply sell the land to raise revenue." The benefits of being involved for the long term, and being part of a joint venture, would be that we can influence what's done with that land, he adds. "We've worked really hard with the local authorities in each of six areas that our stations touch to ensure that our plans fit with the local planning environment and the objectives of HS2 for supporting regeneration, and for creating jobs and homes."
At Old Oak Common, he says, there are four large sites and HS2 is working with Old Oak and Park Royal Development Corporation (OPDC), set up by the GLA, to come up with a cohesive plan about how to comprehensively redevelop that area. We already have Lend Lease as a partner at Euston. And we're heavily involved with work through local stakeholders in Birmingham to create a vision for the Curzon Street area and Digbeth.
Understanding regional and local spatial ambitions
GBRTT has made some thought-provoking observations on the future of rail. "The UK population is expected to grow by several million over the next few decades, and with a shortage of affordable housing, it's critical we get land use and transport planning working in parallel. If we do, it will create well-located homes and communities and reduce car dependency for future generations," says Seagriff.
"By better understanding regional and local spatial ambitions, beyond the station gateline, we will be able to start thinking about development differently. At GBRTT, we are looking at all of these questions and more, and we've been speaking to people from all sorts of organisations – industry, local and regional government, private sector businesses in the supply chain, passenger champions – to support the long-term strategy for rail which is a core part of the guiding mind required to shape the future of the railway."
Rail Stations + Property 2023 takes place at 15Hatfields, London, SE1 8DJ on Wednesday 22nd February.
https://www.landorlinks.uk/rail-stations-2023