£81m funding pot for self-driving vehicle development
Edinburgh autonomous bus project and driverless North East HGV scheme among successful projects
01 February 2023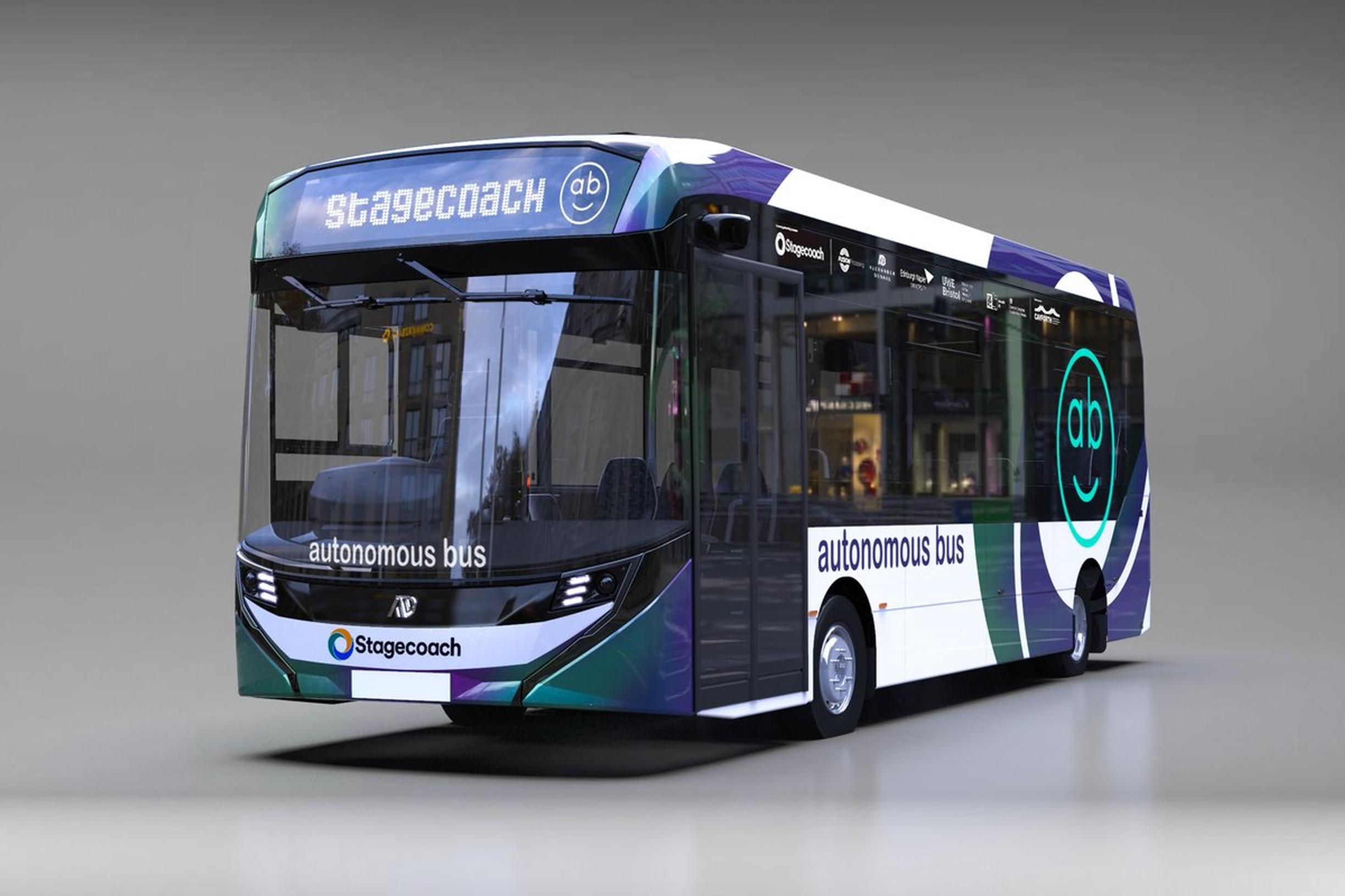 Passengers will be boarding the world's first fully sized, self-driving bus service in Edinburgh from the Spring, after it was awarded a share of £81m in joint UK government and industry support for self-driving transport technology.
The CAVForth II project is one of seven successful projects from around the UK, and forms the most advanced set of commercial, self-driving passenger and freight operations anywhere in the world.
The grants are part of the Centre for Connected and Autonomous Vehicles Connected and Automated Mobility programme. The scheme's aim is to help British companies seize early opportunities to develop experimental projects into offerings ready for the market.
Some £42m in government funding is being matched by industry. Industry consortia will match the public grant to around £81m and will be expected to demonstrate a sustainable commercial service by 2025.
The joint government and industry funding winners are:
CAVForth II – Fusion Processing: £10.4m to launch an operational, full-sized, self-driving bus service in Edinburgh with Stagecoach and Alexander Dennis
V-CAL – North East Automotive Alliance: £8m to roll out self-driving and remotely piloted HGVs between the Vantec and Nissan sites in Sunderland
Hub2Hub – HVS: £13.2m to develop a new, zero emissions, self-driving HGV with Asda
Sunderland Advanced Mobility Shuttle –City of Sunderland Council: £6m to build and trial a self-driving shuttle service to the University of Sunderland and the Sunderland Royal Hospital
Project Harlander – Belfast Harbour: £11m to deploy a self-driving shuttle service around Belfast Harbour
Multi-Area Connected Automated Mobility – Conigital: £15.2m to establish a remote driving control hub, to oversee self-driving vehicles operating in Solihull and Coventry, with the NEC and local councils.
Project Cambridge Connector – Greater Cambridge Partnership: £17.4m to trial on-demand, self-driving taxis, to complement existing transport services in parts of Cambridge.
Business secretary Grant Shapps said: "In just a few years' time, the business of self-driving vehicles could add tens of billions to our economy and create tens of thousands of jobs across the UK. This is a massive opportunity to drive forward our priority to grow the economy, which we are determined to seize.
"The support we are providing today will help our transport and technology pioneers steal a march on the global competition, by turning their bright ideas into market-ready products sooner than anyone else."
Transport secretary Mark Harper said: "Self-driving vehicles including buses will positively transform people's everyday lives – making it easier to get around, access vital services and improve regional connectivity.
"We're supporting and investing in the safe rollout of this incredible technology to help maximise its full potential, while also creating skilled jobs and boosting growth in this important sector."
Almost £600,000 is also being awarded for feasibility studies, looking into how self-driving technology could improve public transport in four parts of the UK. These projects will look into potential routes where automated vehicles could operate exclusively from other traffic, to relieve congestion on the A414 through Hertfordshire and Essex, parts of Eastern Cambridge, Birmingham and Solihull, and Milton Keynes.
Innovate UK executive director for net zero, Mike Biddle, said: "The connected and automated mobility (CAM) sector is of crucial importance to the UK, with the potential to deliver safer, cleaner and more efficient transport systems across a wide range of settings. This latest, multi-year round of government's Commercialising CAM funds builds on the success of previous collaborative R&D programme, stimulating innovation to ensure the UK is at the forefront of the transition towards the commercialisation of self-driving services."
The UK government believes self-driving vehicles could revolutionise public transport and passenger travel, especially for those who do not drive, better connect rural communities and reduce road collisions caused by human error. It cites forecasts predicting that by 2035, 40% of new UK car sales will have self-driving capabilities, with a total market value for connected and automated mobility worth £41.7bn to the UK. This could create nearly 40,000 skilled jobs in connected and automated vehicle (CAV) technology, says the government.
The government is also committed to introducing legislation that will enable the safe and timely rollout of self-driving vehicles on UK roads. Under a proposed 'safety ambition' for self-driving vehicles to be equivalent in safety to a competent and careful human driver, vehicles will need to meet certain standards to be allowed to 'self-drive' on the roads throughout the lifetime of the vehicle. Organisations overseeing self-driving vehicles could face sanctions if standards are not maintained.
The winning projects
CAVForth II – Fusion Processing
£5.2m awarded by government, matched by industry to a total £10.4m. This project will allow Stagecoach to launch what is believed to be the world's most complex full-sized automated bus service, running along a 14-mile route, and building on a pilot project that is nearing completion. This project will test and refine the commercial service model, from the current 'Captained' service, with a staff member onboard, to future deployments with smaller vehicles which could operate with no staff on board.
Project partners include: Stagecoach Group, Alexander Dennis Limited, University of the West of England, and Edinburgh Napier University.

V-CAL– North East Automotive Alliance
£4m awarded by government, matched by industry to a total £8m. V-CAL will scale and expand the initial, part government-funded V-CAL proof of concept, by deploying connected and automated logistics (CAL) technology at scale in two real-world, industrial settings:
Replacing all heavy goods vehicles (HGVs) on a trial route on private land with zero-emission HGVs retrofitted with CAL technology.
A challenging public road route where the self-driving HGV will encounter traffic lights, roundabouts, security gates, bridges and other road users.
Project partners include: Vantec, Nissan Motor Manufacturing UK (NMUK), StreetDrone, Nokia, Newcastle University, ANGOKA, and Womble Bond Dickinson (UK).

Hub2Hub – HVS
£6.6m awarded by government, matched by industry to a total £13.2m. This project will deliver an all-new automated HGV for the UK market. HVS' innovative HGV will decarbonise one of the biggest polluting sectors on our roads, working in partnership with Fusion Processing to expediate the development of hub-to-hub autonomous driving technology with Fusion's automated drive systems, delivering never-seen-before levels of efficiency and operational cost savings for logistics operators, as well as providing new employment opportunities.
The deployment trial of the autonomous HGV, planned for September 2024, will demonstrate this service for a leading retailer to elevate public perception, showcasing the potential autonomy can deliver thanks to increased safety and fuel savings, and develop new business models.
Project partners include: Asda Stores Limited and Fusion Processing.

Sunderland Advanced Mobility Shuttle – City of Sunderland Council
£3m awarded by government, matched by industry to a total £6m. This project will research, build, trial and evaluate the deployment of a highly automated, remotely supervised, zero-emission passenger mobility service in the City of Sunderland. This will increase connectivity between a key transport interchange (bus, rail and metro) and two high-volume destinations: the University of Sunderland City Campus and Sunderland Royal Hospital.
Project partners include: Stagecoach North East, ANGOKA, Aurrigo (Richmond Design and Marketing), Newcastle University, Swansea University, and BAI Communications

Project Harlander – Belfast Harbour
£5.5m awarded by government, matched by industry to a total £11m. The Harlander project will establish Northern Ireland's first operationally ready, scalable, and commercially viable deployment of a fully automated shuttle service on mixed-use public roads. The service will utilise a ground-breaking, multi-purpose automated vehicle that enables a cost-effective scaling of passenger services and the introduction of a goods delivery service.
Project partners include: Horiba MIRA, ANGOKA, BT, and REE Automotive UK. The engagement with aforesaid project partners is subject to a consortium collaboration agreement, which is expected to be signed soon.

Multi-Area Connected Automated Mobility – Conigital
£8.3 million awarded by government, matched by industry to a total £15.2m. This project looks to establish a self-driving vehicle operation around various parts of the West Midlands, underpinned by a centralised, Remote Monitoring Teleoperation (RMTO) centre. The RMTO centre will be where the project's self-driving vehicles are monitored and (when required) controlled from, using 5G connectivity. The project aims to make self-driving vehicle operations commercially viable, and offset current technology and driver costs.
Project partners include: National Exhibition Centre, Direct Line Group, Coventry City Council, Solihull Metropolitan Borough Council, University of Warwick, Coventry University, dRisk, IPG Automotive and West Midlands Combined Authority

Project Cambridge Connector – Greater Cambridge Partnership
£8.7m awarded by government, matched by industry to a total £17.4m. The Cambridge project will pilot on-demand self-driving vehicles. Up to 13 electric vehicles will provide passenger services that integrate with existing transport services within Cambridge across two sites: Cambridge University's West Cambridge Campus and the Cambridge Biomedical Campus.
Project partners include: The lead partner Greater Cambridge Partnership is the local delivery body for a City Deal with central government, and working in partnership with Cambridgeshire County Council, Cambridge City Council, South Cambridgeshire District Council and University of Cambridge.
Project partners include: dRisk, Stagecoach East, IPG Automotive UK, Conigital and Gamma Energy as well as the Greater Cambridge Partnership.
A total of £586,000 is being awarded four projects through the Centre for Connected and Autonomous Vehicles (CCAV) Connected and Automated Mobility (CAM): Mass
Transit Feasibility Studies competition
The winning projects:

Dedicated Driverless Spaces for Integrated Mass Transit – City Science Corporation
£142,000 awarded. This project aims to use segregated, "Dedicated, Driverless" spaces for The Hertfordshire Essex Rapid Transit (HERT) route: the A414 between Hemel Hempstead and Stansted Airport. Roads that would benefit from segregated self-driving vehicle operations have been identified using previous research conducted by the project team for the National Infrastructure Commission.
Cambridge Autonomous Rapid Transport – Greater Cambridge Partnership
£92,000 awarded. The project will explore the potential of Connected and Automated Mobility Technology to support the delivery of a new development and solve existing challenges of overly congested roads, and homes and job creation, in a dense and urban area. The Cambridge Autonomous Rapid Transit corridor would run through eastern Cambridge. The corridor will link the Newmarket Road Park & Ride facility (Newmarket Road/Airport Way) through the Cambridge Airport site with Cambridge Station.
East Birmingham North Solihull Automated Shuttle Service – West Midlands Combined Authority
£151,000 awarded. This project aims to develop an independently verified case for a segregated transit corridor using automated, platooning shuttle vehicles using tyre-on-tarmac technology. The study will consider traditional rail-based requirements, and associated capital and operational costs that can be removed versus new requirements and costs that will be required. East Birmingham North Solihull Metro segregated transit corridor would link the commercial centres of East Birmingham and 'The Hub' North Solihull, connecting deprived communities.
Milton Keynes Advanced Very Rapid Transport – Milton Keynes Borough Council
£200,000 awarded. Advanced Very Rapid Transit (AVRT) is a new concept in mass transit, using automated vehicles running on purpose-designed, physically segregated pathways. The study will look into how AVRT could deliver fast, frequent and reliable public transport services, focusing on a small number of key corridors extending out to a radius of 25-30 km around Milton Keynes.