Parking spaces to go as Lewisham sets out Sustainable Streets vision
25 January 2023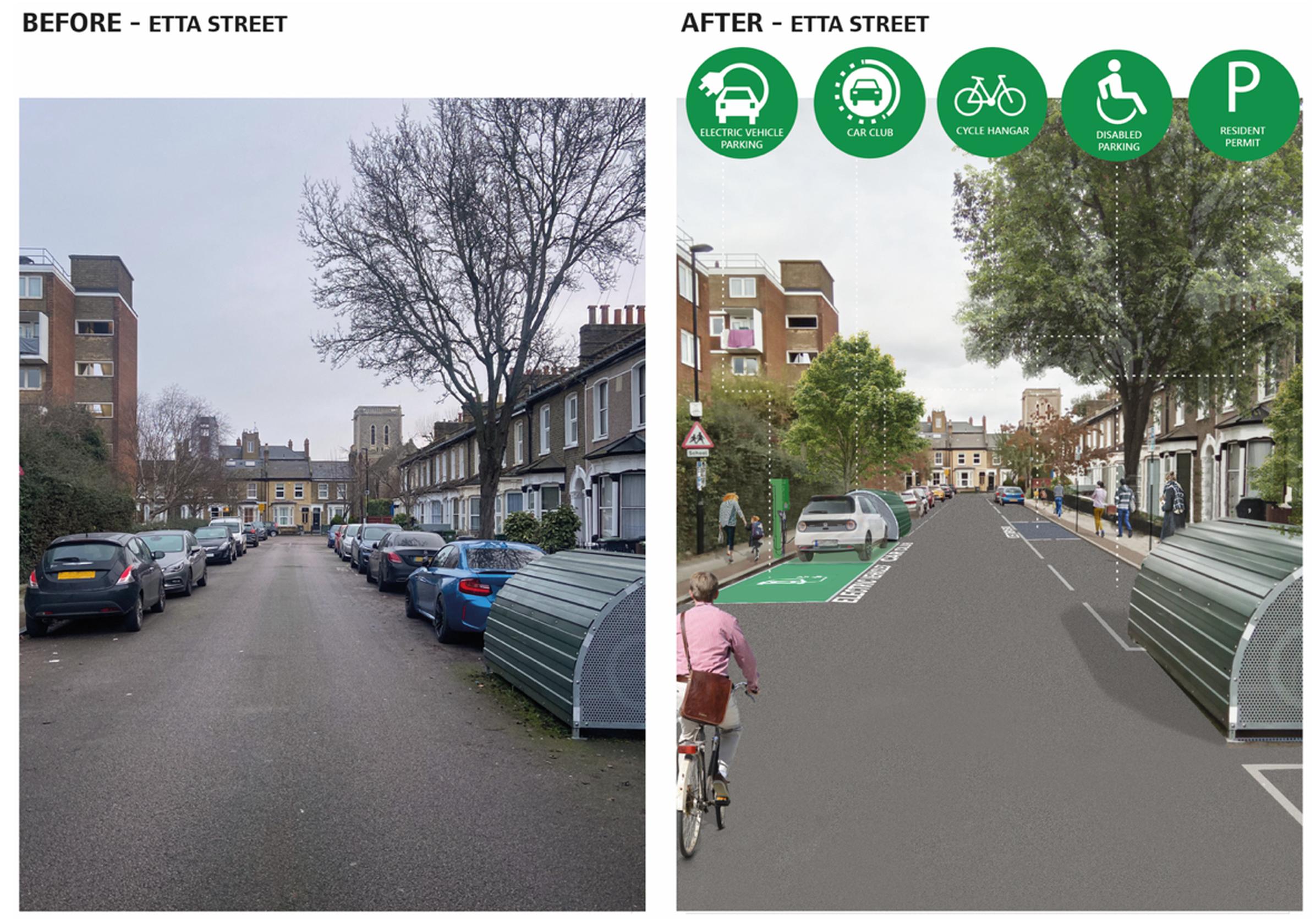 Lewisham Council is to replace parking spaces with trees, EV charging points, cycle storage, and safer crossings and junctions. More car club and disabled bays will also be installed.
The borough said the first phase of its Sustainable Streets programme will focus on the roads around Deptford and Catford, with changes due to start next summer.
Better use of pavements and road space will improve local streets and road safety, reduce noise, traffic, and air pollution, and help more people walk, cycle and use public transport, the council states.
Around 60% of road space in Lewisham is used for on-street parking, but less than half of households in the borough own a car, according to the council. "This is a huge amount of space that can be transformed to deliver better footways, more secure cycle storage, EV charging points, trees and planting and create spaces for the community to enjoy."
"Lewisham has more unrestricted street parking than any other inner London borough, said the council. "The proposed improvements aim to make better use of this space in order to prioritise active travel, create safer streets for residents and help make Lewisham a net-zero borough by 2030."
Reducing parking spaces will help encourage modal shift, the council said. It has set the target for 80% of all journeys in Lewisham to be made by walking, cycling or public transport by 2041.
Alongside this, a new parking permit scheme will be introduced for residents and businesses. This will ensure parking is "prioritised for local people and businesses, as well as reducing unnecessary car journeys and encouraging more people to walk, cycle or use public transport", said the council.
The permit scheme will also discourage people from using parking spaces near local shops and high streets for non-shopping purposes, "making it easier for other residents to visit local shops and high streets".
Phase one proposals for Deptford and Catford will include new secure cycle storage for nearly 500 bikes, over 300 additional street trees and almost 100 electric vehicle charging points.
If parking permit schemes are introduced in these areas, residents and businesses will be entitled to a 15% discount on their annual permit for the first year, said the council.
Cllr Louise Krupski, cabinet member for environment and climate action, said: "We want to reimagine our borough's roads and streets to create a greener Lewisham, improve road safety and help reduce air pollution. Our Sustainable Streets programme is just the start of our ambition to increase active travel and reduce car unnecessary car journeys, as we look to create a net-zero borough and tackle the Climate Emergency."
Residents and businesses in the areas covered by the first phase of the programme are being encouraged to share their views on the proposals. The consultation is open until Sunday 5 March 2023.
Louise Krupski will be speaking at School Streets.