LTNs don't displace traffic and air pollution, research finds
25 November 2022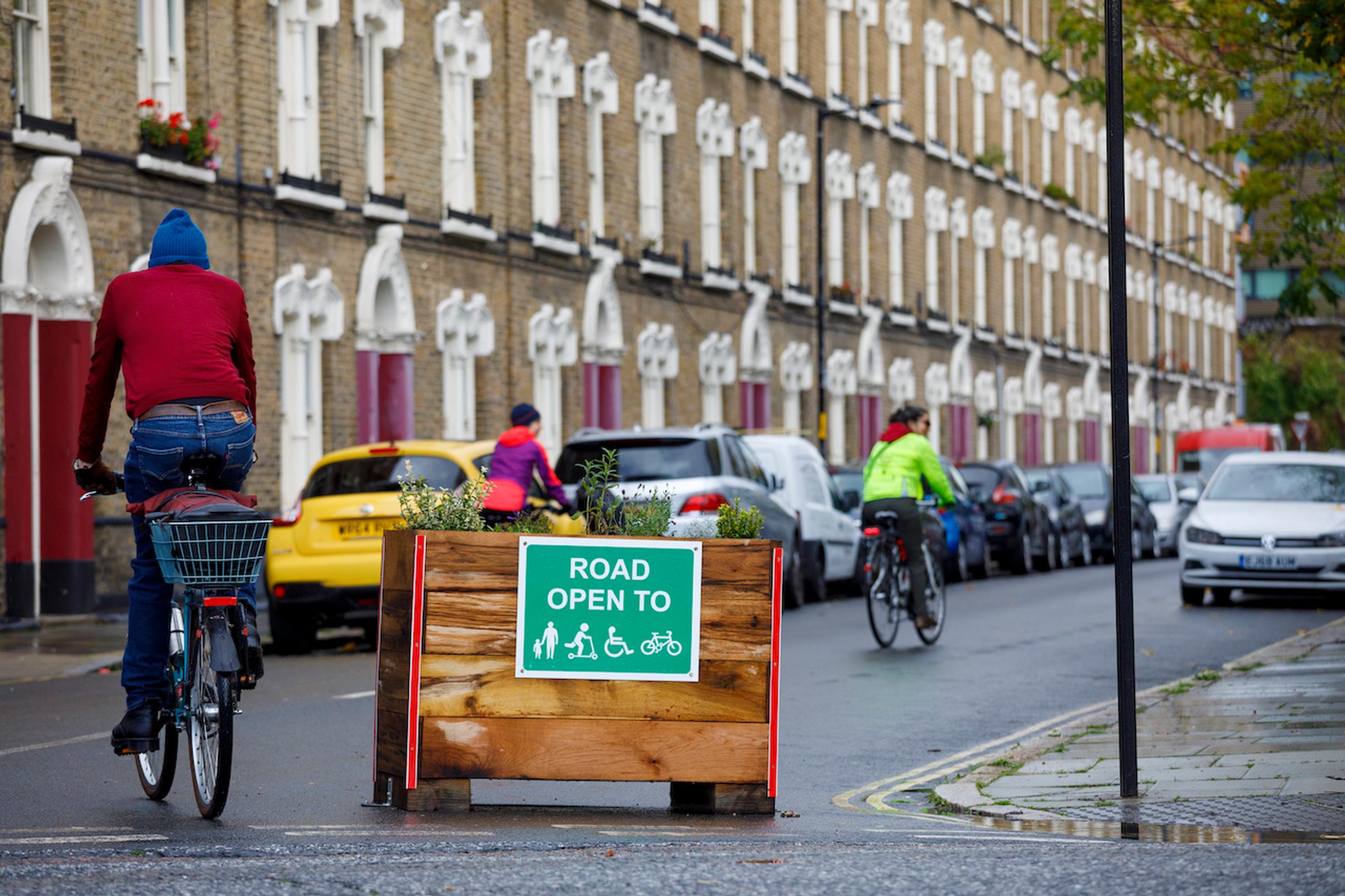 Low traffic neighbourhoods (LTNs) cut traffic and air pollution without displacing the problem to nearby streets, according to research by Imperial College London.
The study looked at three LTNs in Islington to identify their impact on both air pollution and traffic within the zones and in the surrounding area.
Many LTNs were installed during 2020, to prevent an increase in vehicle traffic as people avoided public transport through fear of infection during the Covid-19 pandemic. However, they also provoked opposition, with critics claiming that LTNs increased traffic and pollution in surrounding areas.
Researchers compared pollution and traffic levels at monitoring stations inside the three LTNs, on streets surrounding the zones, and at control sites further away, using data gathered by Islington Borough Council.
The LTNs – in St Peter's, Canonbury and Clerkenwell – were installed between July and September 2020. The team analysed data gathered from July 2019 to February 2021.
Researchers said that as each LTN was set up at a different time and not all monitoring sites gathered data continuously, averaging out the results between the three LTNs would not provide an accurate overall picture. For this reason the team said they carried out "a more complex statistical analysis" to ensure other factors that might affect traffic volumes and air pollution at particular times – such as the Covid-19 restrictions in place, school holidays or weather – could be taken into account.
Researchers found that concentrations of nitrogen dioxide fell by 5.7% within the LTNs and by just 9% on their boundaries, compared with the control sites. They also found that traffic dropped by over half inside the LTNs and by 13% at the boundaries, compared with the controls.
Dr Audrey de Nazelle, from Imperial's Centre for Environmental Policy, said: "This research effectively disproves the argument that low traffic zones will necessarily cause an increase in traffic and air pollution in neighbouring streets.
"In the three areas we looked at, they reduced both traffic volumes and, significantly, air pollution both inside and on the edges of the zone. Alongside the other benefits of LTNs that have been shown in previous research – such as improvements in safety and an increase in walking and cycling – this makes a very strong argument in their favour."
Co-author, Imperial College London PhD student Helen Yang added: "This is the first study to use a robust statistical approach to show the impact of LTNs on surrounding areas, and the results are really encouraging. We worked with a relatively small data set and further research is now needed to confirm these findings at a larger scale."
A spokesperson at walking and cycling charity Sustrans said: "This research shows the fundamental benefit Low Traffic Neighbourhoods can have in improving air quality for communities. This should be considered alongside the role LTNs play in creating safer spaces for children, increasing footfall for local businesses, and providing an opportunity for people to travel actively instead of being car-dependent.
"However, we must remember that for these schemes to be successful and for everyone, community consultation is essential throughout the planning, delivery and review process. Just as with this research, further evaluation should be a constant, to make sure it continues to work for everyone.
"We should be aiming to replace our car use with walking, wheeling and cycling as a priority, as it is the number of cars on the roads that is the greatest threat to our environment, whilst our overuse of them is unaffordable for our health and wallets."
'Evaluation of low traffic neighbourhood (LTN) impacts on NO2 and traffic' by Xiuleng Yang, Emma McCoy, Katherine Hough and Audrey de Nazelle