HertsLynx case study: DRT serving local communities
Hertfordshire County Council set up HertsLynx to provide transport connections for local people, to enable to travel around this remote and sparsely populated area. Some villages consist of only 30-40 houses, and they could not be sustainably served by fixed line routes
24 June 2022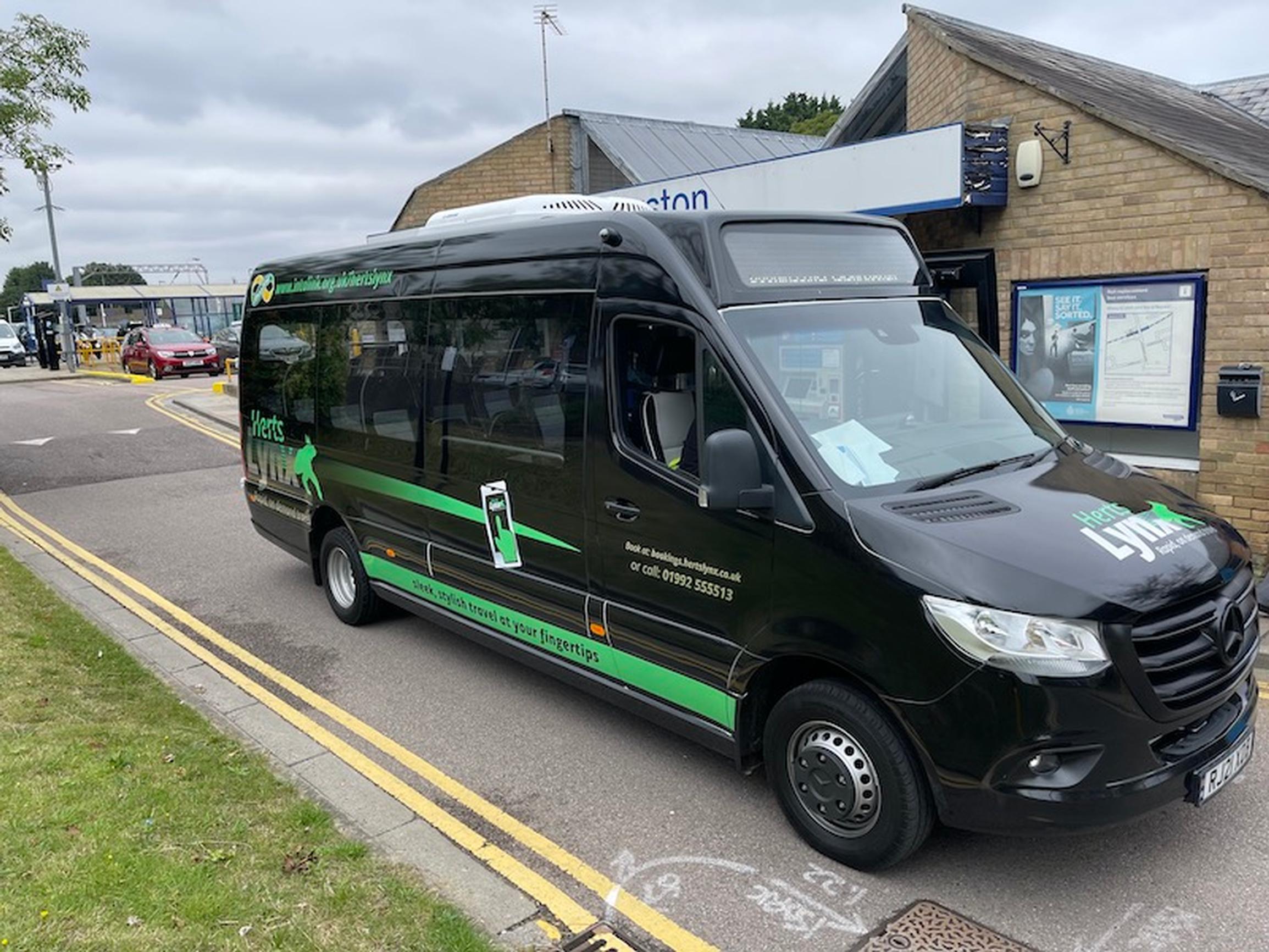 Hertfordshire County Council set up HertsLynx to provide transport connections for local people, to enable to travel around this remote and sparsely populated area, where some villages consist of only 30-40 houses, which could not be sustainably served by fixed line routes.
---
---
Service design
HertsLynx is designed to serve residents in the designated operating zone covering villages in North and East Herts, as well as providing transport links to fixed destinations in Key Hub Towns: Stevenage, Letchworth, Hitchin, Baldock, Royston and Bishop's Stortford.
It covers an area between 7 and 9 miles in each direction from Buntingford, serving a total area of around 150 miles2 / 400km2.
HertsLynx launched with three 16 seater minibuses plus one space for wheelchair user. This will expand to to 5 vehicles, including one electric bus, in September 2022.
The service operates 0700 – 1900 Mondays to Saturdays and 1000 – 1600 on Sundays and Public Holidays. Journeys can be booked in real-time or in advance.
Fares are based on distance travelled, from £2 (upto 2 miles) to £5 for over 10 miles. Concessionary pass holders travel for free, SaverCard holders and children under 10 travel for half fare. HertsLynx runs as a cashless service.
Passengers can use HertsLynx for travel anywhere in the Free-Floating Operator Zone. There are no fixed routes on this service, instead passengers can be picked up and dropped off at a vast number of stops within the zone. They are also able to travel from the Free-Floating Operator Zone to designated locations in the Key Hub Towns. Travel is permitted between Key Hub Towns but is not available for journeys between points within one Key Hub Town.
Find out more about the service from an operator view here
Find out about a DRT case study in Orleans, France, here
Operator and funding
The service was commissioned by Hertfordshire County Council, funded by the Rural Mobility Fund of the Department for Transport
The service is operated by Uno Bus, which runs fixed route buses across Hertfordshire. It is the first DRT service Uno Bus has run
HertsLynx is managed using the Padam Mobility DRT platform
Key learning
The service has proved popular. Says Alice Missler, Demand Responsive/Community Transport Team Leader at Hertfordshire County Council: 'The service surpassed its year one target of 12,000 trips within 10 months. It's also developed over that time. Initially journeys were from 'free floating' areas to key hub towns but we're now also seeing journeys within the zone and the buses being used for trips like GP visits, social calls and shopping. This is a positive development.
"Running a DRT bus service is different from commissioning a fixed line service. How it is used is immediately visible to the authority, and it can be adjusted rapidly.
"We've gone from a situation where we had very little data to one where we can review the data, identify trends and make sure the service aligns with them.
"We know that 25% of passengers are SaverCard holders (between the ages of 11 and 25) and the college in Buntingford is one of the top three pick up and drop off points. So we've engaged with Padam Mobility to create a semi-fixed line to the college. The algorithm will ensure that students get to college on time but it will organise journeys to enable the most people to travel.
"We were surprised – in a good way – to get so many younger people using the service. Our expectation was that it would be more used by people with concessionary passes. In fact they only make up 10% of trips."
The challenges of DRT – like any rural service – is to balance cost and income as much as possible. Alice Missler again: "The challenge is to get more people travelling per bus and ensure that we have as little non-commercial vehicle mileage as possible.
"We've worked with Padam Mobility on adjusting the algorithm to get the best possible grouping rates. The algorithm works overnight to optimise pre-bookings. We've also worked on the deviation rate – how many minutes the bus will go out of its way to accommodate other people's journeys – lengthening that helps push up the number of passengers per bus.
"In addition, we're working on layering the service with social transport services to offer a more sustainable option where colleagues are organising travel for people.
"The software also helps increase the number of people per trip by prompting people to travel at similar times. For instance someone booking at 2pm when there is another person travelling within 15 minutes will be offered a shared journey. The system also plots journeys taking into account picking up and setting down other travellers along the route. "
Key data
80% of users use the app, 15% book online and 5% use the call centre to book
School and college students have proved to be enthusiastic users with 10-12 pick ups and drop offs per day at the college north of Buntingford. These students would previously have been reliant on lifts from family and friends.
Pre-booking has increased rapidly as people have become familiar with DRT. More people are booking 3-4 weeks in advance, ensuring that they can rely on the service to get to work, college or catch a train.
Peak travel times align with commuters catching trains and students going to college, however there is a steady flow of off-peak trips for shopping and the like.
The operator has reported that it has brought new people to using the bus because they have more opportunities to travel. A pattern has been established, once a couple of people from an area try the bus, word spreads and more people book.
Says Ed Cameron of UNO Bus: "A lot of people had no idea of what DRT was it started. It's quite hard to explain that it's both like a taxi but also not as bespoke and like a bus but not quite. I have passengers asking why they have to stand on different sides of the road one day to the next. I have to explain that it depends on the bus's previous route.
"However, once they've used it a few times, people get the hang of it quite quickly and I think that's why they book in advance, and also why the buses are fuller."
"The HertsLynx service has proven successful. County-wide, DRT will grow rapidly and by January 2023 Hertfordshire will have over 20 DRT vehicles in operation."
---
For more information about developing DRT services in rural areas, contact Jack Holland