HyperHubs will power the way
EvoEnergy is creating EV hubs at City of York Council P&R sites
10 May 2021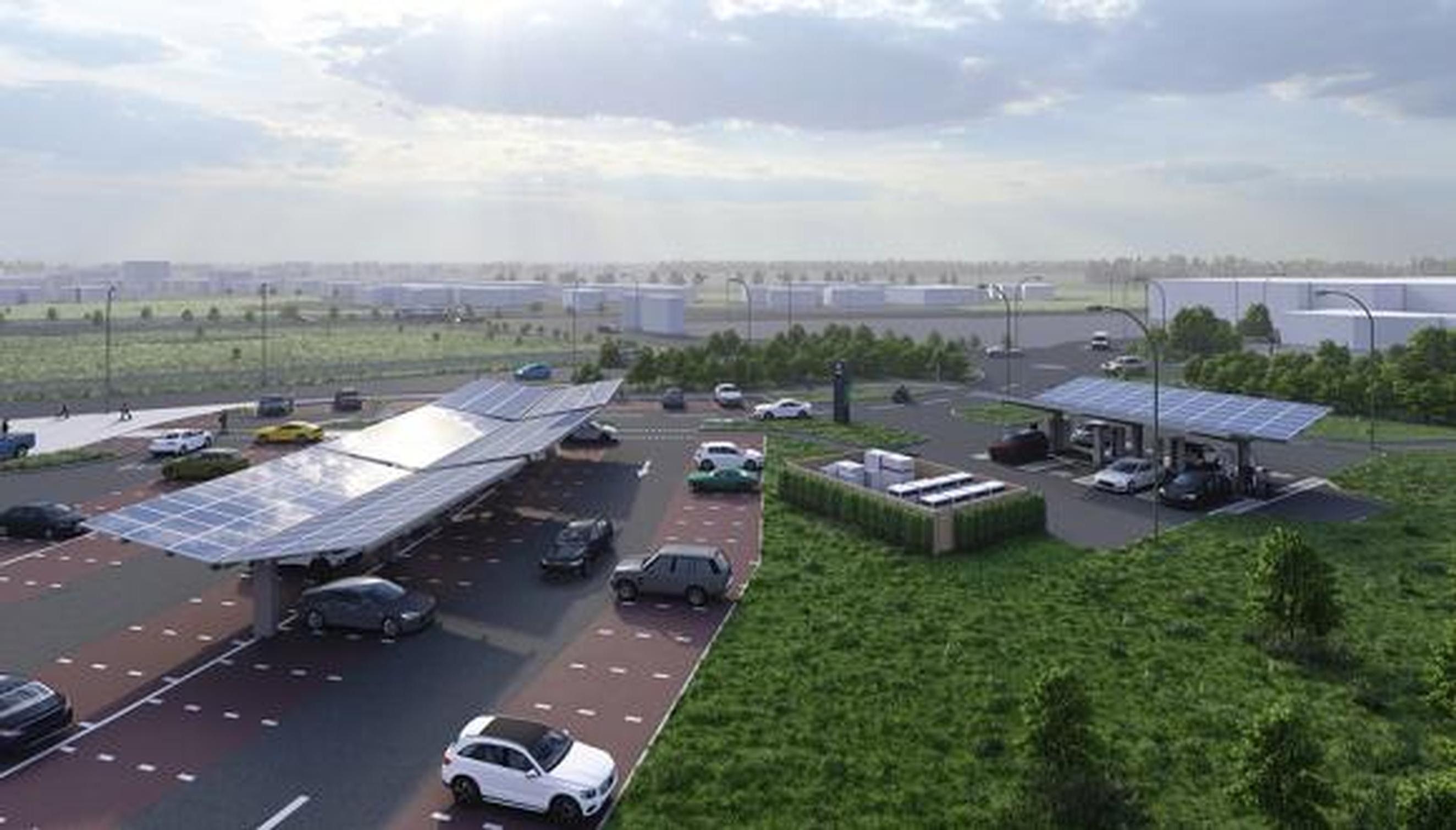 Two HyperHubs are being built in York at the Monks Cross and Poppleton Bar park & rides. The sites represent a £2.2m investment by City of York Council in high-speed electric vehicle (EV) charging.
In order to reduce emissions and improve air quality around the region, the City of York Council approached EvoEnergy to design and install the HyperHubs. In addition to generating low carbon electricity through the solar canopies, any further electricity from the grid will be from renewable sources.
The City of York Council hopes the HyperHubs will not only help to reduce tailpipe emissions by encouraging more people to use electric cars but will also ensure no further emissions are generated in powering them. The project comes at a time when the nation is preparing to transition across to using electric vehicles with the government's announcement of a complete ban on sales of new petrol or diesel cars by 2030, while sales of plug-in hybrid models is set to end in 2035.
Cllr Andy D'Agorne, executive member for transport at City of York Council, said: "We're delighted to be working with EvoEnergy to build the region's largest charging hubs in York. The two HyperHubs will support the next generation of plug-in vehicles – delivering high quality, high-speed electric vehicle charging hubs for residents and visitors. The project works alongside our Electric Vehicle Charging Strategy, which will provide a high quality charging network that meets the needs of residents, fleets, and through-traffic. To guarantee the best result for residents, we plan to continue to own our charging network. This allows us to plan how the network will grow, set tariffs, makes us directly accountable and enables us to deliver next generation chargers as quickly as possible."
The council has secured £1m of European Regional Development Funding and £800,000 from the Office for Zero Emission Vehicles (OZEV), along with £400,000 of the council's own capital funding to install the first two HyperHubs.
Each HyperHub site will consist of solar photovoltaic (PV) canopies powering eight chargers. There will be four 50kw rapid chargers and four 150kW ultra rapids. With increasing battery capacities and charging speed capabilities on new electric vehicles, this range of chargers means people will be to charge quickly and easily.
The solar canopies will generate energy for the charging stations, and both sites will feature battery storage (348kW/507kWh), too. This means that the council will be able to store energy generated during the day. In addition to generating low carbon electricity on site through its PV arrays, all of the electricity supplied from the national grid will be generated by renewable sources providing users with low carbon electricity and ensuring that no NOx emissions are emitted from electricity generation.
Construction on both sites started in February, and is scheduled for completion in June 2021.
Jonathan Roper, EvoEnergy's senior design engineer on the project, said: "We are proud to have been awarded these challenging multi-faceted projects. They combine the full range of EvoEnergy's technology offering, and it is a pleasure working with a future-looking organisation such as the City of York Council."
Over recent years, City of York Council has invested in a range of public charging facilities for electric vehicles to help reduce carbon emissions and improve local air quality thanks to EVs eliminating NOx emissions at the point of use.
Cllr Paula Widdowson, executive member for climate change, said: "We were one of the first cities to introduce a public electric network several years ago which has become really popular. In 2014, there were 1,510 charging sessions, by 2018 that had increased to 13,695. We are now delighted to be introducing the region's largest EV charging hub. This is exactly what our EV strategy has set out to achieve. Providing a future-proofed network with high quality facilities to support this increased demand. With associated air quality and climate change benefits, this will meet the needs of the next generation of plug-in vehicles."