Glasgow bus depot will be largest EV charge station in UK
Electric Vehicles
15 June 2021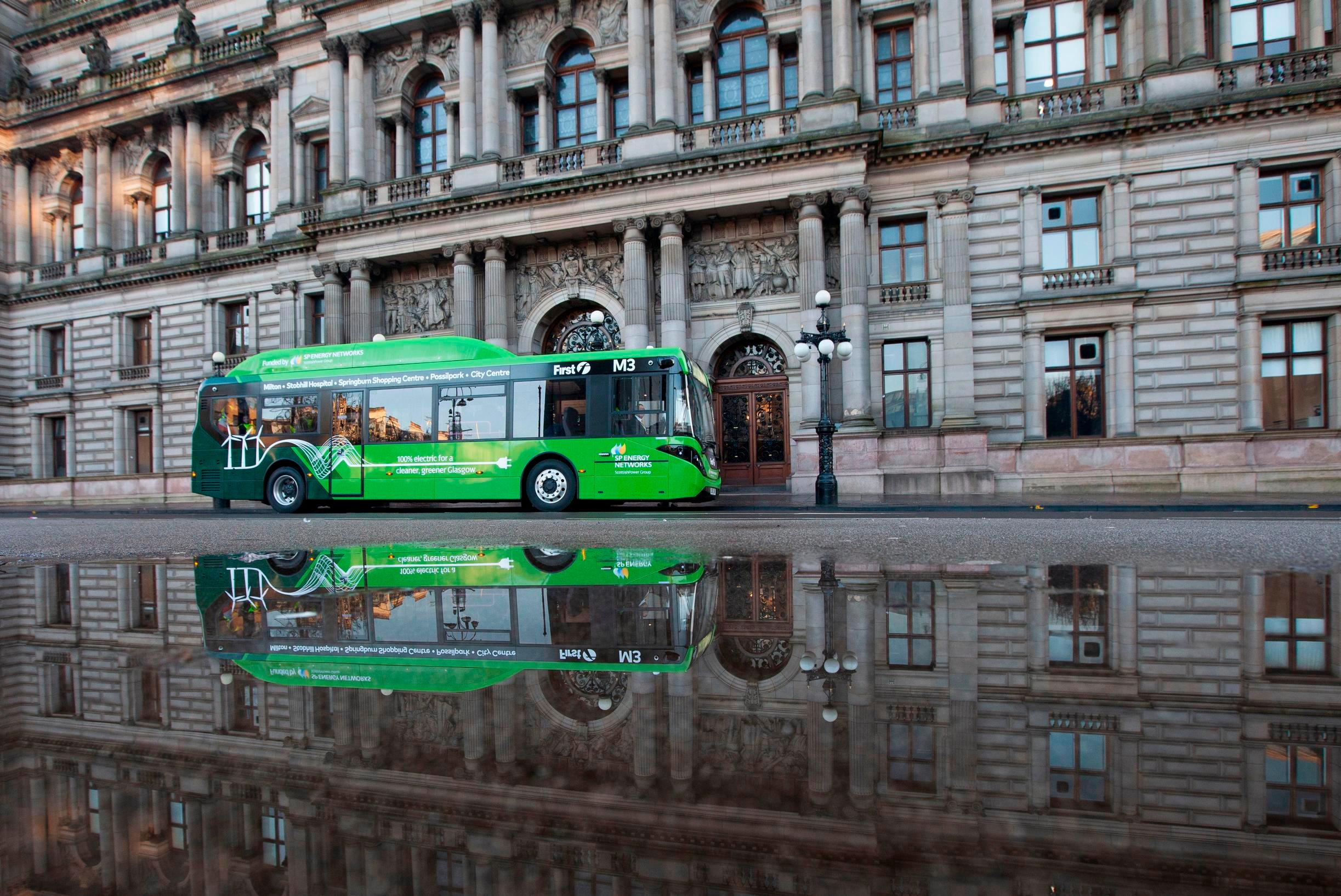 Second-round funding from the Scottish Ultra-Low Emission Bus Scheme (SULEBS) has set First Bus on the road to transform its Caledonia depot in Glasgow into the UK's largest electric vehicle (EV) charging station.
A total of £28.2m, together with a further £7.4m investment by First, will see a total of 162 EV chargers on the site by summer 2022, and around 150 diesel-powered buses replaced by fully electric buses by 2023. The move is in line with the Scottish government's commitment to electrify half of Scotland's buses by 2023. LTT understands an announcement giving more information about how this will be achieved will be made next month.
The funding means that First Bus, which has been trialling two fully electric buses in Glasgow, will be able to introduce 22 new electric buses this autumn ahead of November's COP26 Climate Change conference, which will be held in Glasgow in November.
First Bus says that the general sentiment among passengers towards its hydrogen-powered fleet in Aberdeen and the two electric buses in Glasgow has been positive. A spokesperson told LTT that due to Covid-19 hitting globally, and the impact it has had on passenger journeys on bus, the company hasn't yet had the opportunity to discuss this more fully with our customer base. "We will be seeking to learn this in the coming months as Covid 19 restrictions begin to ease and our services can start to get back to some kind of normality again," he said.
LTT understands that First is awaiting information on the success of the trials and what that means in terms of savings on maintenance and running costs.
First is working with Dutch power services provider Heliox on the EV project. Each rapid charging station will be controlled via smart charging software to ensure that power is used in the most efficient way. First says this will minimise the draw down from the National Grid at peak times. The depot is located next to an electricity sub-station.
Michael Matheson, Transport Scotland's cabinet secretary for transport, infrastructure and connectivity, said: "Through this £35m investment, First Bus continues to demonstrate its commitment to decarbonising its bus fleet, improving air quality and responding to the climate emergency. I'm pleased that the Scottish Government has been able to support this infrastructure project, including the purchase of new electric buses, with an additional £28m through two rounds of the Scottish Ultra-Low Emission Bus Scheme."
The investment will bring green jobs and opportunities across Scotland, including for Scottish Power working on the electrical infrastructure in Glasgow, and Alexander Dennis in Falkirk manufacturing new fully electric buses, said Matheson. "Working in partnership, including through our Bus Decarbonisation Task Force, we can accelerate the transition to a zero-emission bus fleet and support Scotland's world-leading net zero target."
Janette Bell, managing director for First Bus UK, said: "We are proud to be announcing the UK's largest EV charging infrastructure as part of our transition to a 100% zero-emission fleet by 2035."
SULEBS funding has been awarded to six other bus and coach operators. Ember Core, which operates the UK's first all-electric coach service, linking Edinburgh with Dundee, Perth and Kinross, received funding to develop its infrastructure. McGill's, Stagecoach Bluebird, Stagecoach East, Stagecoach West and Xplore Dundee all received funding for new buses and infrastructure.
First Bus operates five sites across Glasgow. Caledonia depot is home to 337 buses and is the largest bus depot in the UK.