Bus News: Issue 362 29 May 2009
Share this article:
Government on Yellow School Buses: 'one size does not fit all'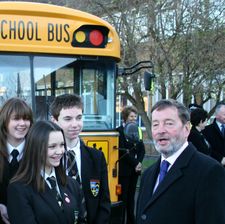 Meera Rambissoon
The government's response to the Transport Select Committee's second report on School Travel has been welcomed by David Blunkett MP, chair of the Yellow School Bus Commission.
School Travel: government response to the committee's second report of session 2008-09, out yesterday, states that that the conclusions of the committee's report are consistent with the government's understanding of the evidence on school travel: that one size does not fit all.
The report states: "We agree...