Bus News: Issue 362 21 May 2009
Share this article:
Stagecoach Barnsley bus network sees 7% increase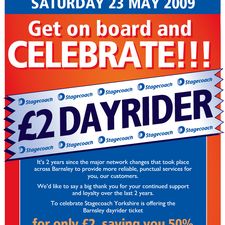 Meera Rambissoon
Passenger growth of more than 7% since 2006 has marked the second anniversary of Stagecoach Yorkshire's major revamp of its Barnsley and Dearne Valley network.
Bus users are now making 1.4 million extra journeys a year compared to the twelve-month period before the operator altered the network inherited from Yorkshire Traction - an increase of 7.2%.
Stagecoach Yorkshire has also clocked up a massive 8.2% increase in adult fare paying passengers, which is an extra 730,000...