Ben Colson: Issue 330 2 Jul 2008
Share this article:
Bus users are going to get a voice,
The government has decided that bus users need a 'champion' and various bodies, including rail consumer watchdog Passenger Focus, are already vying for the job. However, Ben Colson points out that the government has not published the terms of reference for this new bus user champion. What do we actually want it to do?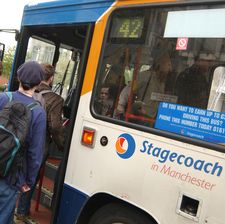 Different operating environments require very kinds of consumer watchdogs. In the south of Manchester, bus companies compete like retailers. This contrasts with the situation in London, where the provision of bus service is regulated
I really wanted to write about the way operators are reimbursed for free concessionary travel. More importantly, I know from the number of calls and emails I have received, many others want me to as well.
But, no. Bus industry talk is of a possible judicial review of some appeal decisions and it would be wrong to put my two-penny worth in (reduced by a plucked-out-of-the-air generation factor, of course) until after any such Court case is heard. Suffice to say it is the Department for...