Ben Colson: Issue 298 10 Nov 2006
Share this article:
Our buses are in gridlock, and so are our roads
With the prospect of re-regulation hanging over it, Ben Colson believes that the bus industry is in gridlock. However, a recent nightmare journey on the M6 showed him that the road network is suffering from gridlock too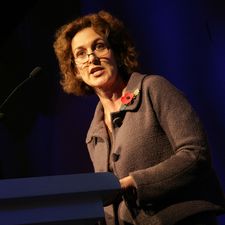 Gillian Merron at the UK Bus Awards 2006 last week. There is widespread confidence that the minister is building in respect of her grasp of her buses brief
By Ben Colson
I visited Euro Bus Expo 2006 on Tuesday, and was one of the 3,500 visitors to the Birmingham NEC to arrive that morning. Was I impressed? Well, sort of. Full marks go to the organisers for their attempt to build it into a truly international show. But whilst it attracted a good number of visitors, I could not help but notice the extent to which exhibitors seemed not to be doing business. And, as the chairman of one of the UK's major bus manufacturers said to me, we need some quick...