Rail News: Issue 296 13 Oct 2006
Share this article:
Operators play environment card in battle with airlines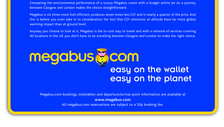 A newspaper advert for Megabus
eurostar and Stagecoach are taking on the airlines by promoting their own services as the environmentally-friendly option. The tactic is supported
by a recent YouGov poll which found that 39% of people are changing their travel habits due to worries about climate change, according to Eurostar.
The cross-channel train operator claims independent research that it commissioned showed that passengers who fly between London, Paris and
Brussels generate 10 times more emissions of the greenhouse...