Stockwatch: Issue 362 15 May 2009
Share this article:
More articles like this...
Bus, City/Shares, Frachising, Rail, Vehicles & Manufacturers, Arriva, DfT/SRA, First, Go Ahead, National Express, Optare, Other, Stagecoach, All of UK
Market resurgence sees good news for transport
Both First and National Express make impressive gains as talk of a 'bull market' sees confidence return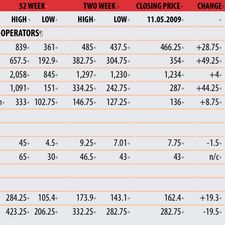 Share Movements: Period from 14.04.09 to 27.04.09
Apparently the gloomy days are now over. Recent media reports suggest that the market is rebounding from the credit crunch and investors can look forward to a brighter future.
With a number of British and world banks reporting encouraging numbers over the last fortnight, the sudden resurgence in stock market confidence brought some good news to our portfolio of transport stocks with First and National Express pressing ahead.
The news that National Express was reported to be in negotiations...