News Extra: Issue 362 15 May 2009
Share this article:
More articles like this...
Awards, Bus, Fares/ticketing, Financial results, Funding, Light rail/tram, Local Government, Independent bus operators, Other, Scottish Executive, Scotland
Lothian lays out its strategy to return to the good times
Andrew Garnett talks to Lothian Buses managing director Ian Craig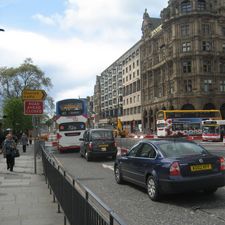 Andrew Garnett
2008 was something of an Annus Horribilis for Lothian Buses. After a golden 10-year period, which saw significant fleet investment, innovation in new products and a 40% growth in patronage that culminated in Lothian scooping the prestigious UK Bus Operator of the Year award in 2007, a culmination of factors made life increasingly fraught for the council-owned firm.
Such were the problems that the respected municipal took the drastic step of making fleet reductions and service cuts as a result...