Bus News: Issue 361 1 May 2009
Share this article:
BRT has lower cost over rail but the funding conundrum remains a problem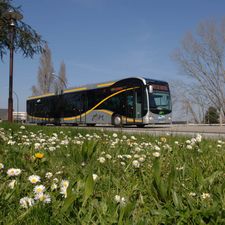 Nantes chose a BRT system over light rail as a result of cost but capacity remains a big issue
Andrew Garnett
Bus rapid transit can be an effective tool for encouraging modal shift at much lower cost than competing light rail alternatives.
That was one of the key messages emanating from the Transit-presented Bus as Rapid Transit conference that was held in London last week.
Commenting on the experience of North America, Bill Vincent of Washington-based Breakthrough Technologies Institute said that the United States was experiencing a renaissance in public transport use with patronage...