Regular Feature: Issue 312 1 Jun 2007
Share this article:
Public transport signals its commitment to tackling climate change
This month's UITP Word Congress in Helsinki saw the public transport sector consider how it will rise to the challenge of being a lead industry in the battle to mitigate climate change.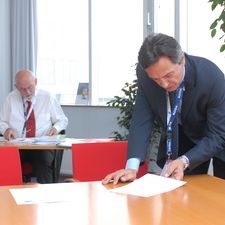 UITP secretary general Hans Rat (left) and president Roberto Cavalieri will step up efforts to promote public transport as a means to mitigate climate change
By James Dark
Public transport is leading the world in its commitment to meeting changing environmental and social agendas, but will need to adapt faster and more radically to the vast new demands which will be placed on it.
That was the message from the International Association of Public Transport at its 57th World Congress held in Helsinki.
UITP sustainable development manager Heather Allen said public transport could now claim to be the world's most active industry in responding to climate change...