Stockwatch: Issue 359 3 Apr 2009
Share this article:
More articles like this...
Air Transport, Bus, City/Shares, Rail, Arriva, First, Go Ahead, Independent bus operators, National Express, Other, Stagecoach, All of UK
First results please the City but Natex woes continue
City gets back onboard Aberdeen-based First as the group puts in an impressive performance over fortnight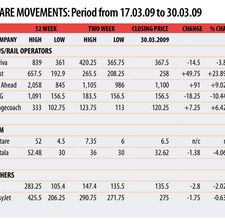 Period from 17.03.09 to 30.03.09
Once again it was another rocky fortnight on the markets for our portfolio of transport stocks with National Express struggling once again, but a solid set of results led to good news for Aberdeen-based First.
What is particularly noticeable now is the wide variations between the 52-week high and the current trading price for all of the groups. Indeed, National Express is now worth almost a tenth of what it was in the happier times of last year, while Go Ahead has shedded more than half of is...