Regular Feature: Issue 356 20 Feb 2009
Share this article:
More articles like this...
Bus, Crime & Vandalism, Performance, Rail, Safety, Staff, Training & Recruitment, First, Go Ahead, National Express, Other, All of UK, Europe, North America
Employees, safety and customers
What do CSR reports tell us about how the passenger transport groups manage their large workforces?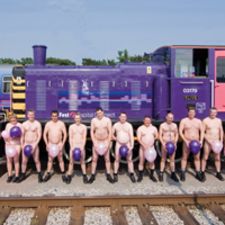 CSR reports contain numerous examples of small scale charity work. Train operator First Capital Connect had a great Christmas Card to raise money, 'Drivers in the Buff'. Do you recognise anyone?
George Muir
The "Our People" section of the CSR reports could have been the dullest of all: vocational training, driver retention, ethnic diversity – yawn, yawn - but it isn't. You have to read between the lines. If you do, you will see how five groups in their different ways are struggling to create added value from the one distinguishing thing they do: manage people. Their business is to organise large numbers of people, in small groups or alone, doing fairly simple things...