Rail News: Issue 353 9 Jan 2009
Share this article:
Merseyrail becomes UK's first fully secure railway network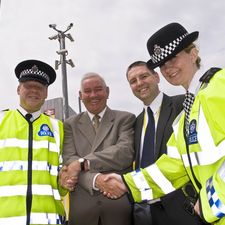 Merseytravel chair Mark Dowd (centre left) at Bootle Oriel Road station
Merseyrail Electrics has become the first fully secure rail network in the UK. All 66 stations have now been awarded the "secure station" status after visits by the British Transport Police on behalf of the Department for Transport in association with Crime Concern.
The last three stations which have now achieved secure status are Sandhills, Little Sutton and Overpool.
Councillor Mark Dowd, chair of Merseytravel and a Member of the TravelSafe Board, said: "This is a unique...