Bus News Lead Story: Issue 350 2 Dec 2008
Share this article:
More articles like this...
Bus, Emission Standards, Energy and fuels, Hybrid/fuel cell vehicles, Manufacturers, Mayor of London, Vehicles & Manufacturers, Alexander Dennis, Arriva, First, London Bus, Optare, Transport for London, Volvo, Greater London
TfL commited to the largest roll out of hybrid buses in Europe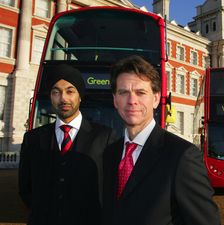 David Brown (right) and Kulveer Ranger with four hybrid buses at House Guards Parade in London this week
Transport for London has restated its commitment to a major expansion of hybrid-powered buses.
Following the election of Boris Johnson as major of London earlier this year some had expected plans to introduce hybrid buses to be cut back in a bid to cut costs.
However, the mayor's transport co-ordinating body this week assembled four hybrid buses, built by three different manufacturers, at London's House Guards Parade for a promotional event.
By the end of January next year, the...