Rail News: Issue 310 4 May 2007
Share this article:
ATOC plan shows how to beat crowding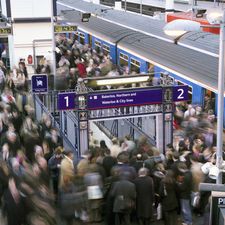 Peak-hour crowds at Waterloo
A discussion PAPER currently circulating among senior rail industry executives explains what can be done in the short and medium to term to cope with high levels of patronage growth.
The paper has been put together by the Association of Train Operating Companies shows how much extra capacity can be gained through train lengthening and new infrastructure can provide on different parts of the rail network.
The paper includes ATOC's top 25 projects needed between 2014 and 2019 to relieve...