John Nelson: Issue 349 6 Nov 2008
Share this article:
Look after your customers and they will look after you
With a recession on the horizon, John Nelson argues that the rail industry needs to understand the importance of customer satisfaction in driving revenue growth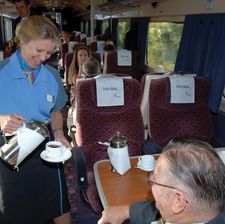 Good quality customer service can make the difference for train operators
Ten years ago the rail industry embarked on a major experiment. British Rail's 'Quality Through People' programme was a bold and successful initiative to incorporate the principles and practice of quality management into the state Leviathan. It ran for about 10 years until the demise of BR and during that decade was credited with bringing many innovations to the way things were done. Starting in 1988 with 'Leadership 500' - a series of seminars in which the top...