Subscriptions : New Transit
New Transit 3 Year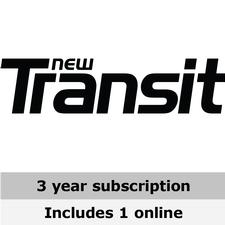 New Transit
PRINT Subscription included in price
TransportXtra
ONLINE Subscription included in price
Subscriptions ordered with a credit/debit card begin immediately. Subscriptions ordered via invoice do not begin until payment has been received. All subscriptions are payable in full in advance.
New Transit + TransportXtra

£234.80 £10.20 VAT out of stock
UK Delivery included

+£112.40 EU +£214.40 RoW

Widely read by rail, light rail and bus operators, local and central governments, the city, consultants and suppliers, New Transit delivers comprehensive passenger transport analysis.

Please note
As from 1st April 2012 this title transferred from Landor LINKS to Contact Plus 24 Ltd.
Subscribers continue to benefit from TransportXtra access.