Event/Conferences : Conference
Modelling World 2012 - 1-Day First Delegate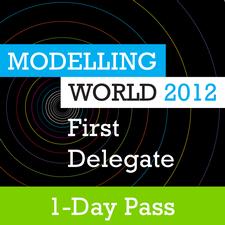 By purchasing this ticket you are eligible to bring an additional delegate for the 1 day for just £175 + VAT
The confirmation email following a credit/debit card purchase is your ticket to this event.
All fees are payable in advance of the event. Delegates may be refused admission if payment is not received prior to the event.
If for any reason you are unable to attend, cancellations received in writing by 26/06/12 will receive a refund less an administrative charge of £100 + VAT. There will be no refunds for cancellations made after this date. Substitutions can be made at any time at no further cost. Promocodes must be redeemed at time of purchase
11 OR 12 July 2012, London

By Landor LINKS
£245.00 +VAT in stock
UK Delivery included


This ticket provides:
Access to all Innovation sessions

Exhibition entry

1-day entry to the conference (You will be contacted to confirm which day is your preference)

Entry to drinks reception

Find out more and view the full programme at the official website.

Who should attend?
Data creatives/developers and open data specialists

Urban designers & town planners

Pedestrian dynamic specialists

Central and local government policy makers

Emergency and evacuation specialists

Design and build engineers

Architects

Economists

Engineers

Visualisers

Studio managers

NeoGeographers

Software designers and developers

Information analysts

Transport planners

Traffic engineers

Transport modellers

Business planners and project analysts

Market analysts and researchers

Economists and investment analysts

Academics

Social infrastructure planners

Retails, transport and travel business managers

Data protection authorities

Revenue and yield forecasters and managers

Trend and behavioral change experts

Securities and logistics specialists

Control centre managers

Vehicle tracking and guidance specialists

Facility managers

Futurologists