Event/Conferences : Conference
Devolving Rail to the Regions - Public Sector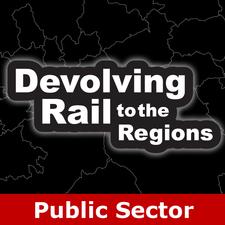 The confirmation email following a credit/debit card purchase is your ticket to this event.
All fees are payable in advance of the event. Delegates may be refused admission if payment is not received prior to the event.
If for any reason you are unable to attend, cancellations received in writing by 03/05/12 will receive a refund less an administrative charge of £100 + VAT. There will be no refunds for cancellations made after this date. Substitutions can be made at any time at no further cost. Promocodes must be redeemed at time of purchase
17 May 2012 | Manchester

By Landor LINKS
£145.00 +VAT in stock
UK Delivery included


This timely brings together a wealth of expertise to examine experience of devolved rail across England, Scotland and Wales. We ask where has regionalisation worked in Europe and what can we learn. The views of PTE's Local Authorities and TOC's will be balance by independent expert viewpoints. Join us at the vanguard of this crucial discussion.
Who should attend?
Pteg and the ITAs, TfL

Local authorities: planning and transportation

Transport consultants

Passenger franchise and open access operators

Transport and planning lawyers

DfT, DCLG, The Treasury, Welsh Assembly Government and the Scottish Government

Network Rail, ORR, RSSB

Rail infrastructure suppliers, contractors and manufacturers

Rolling stock leasing companies and manufacturers

Civil engineers

Property developers and retailers

Railways trade unions

Investors, private equity companies and infrastructure funders

Find out more about the event on the dedicated Devolving Rail to the Regions page