Event/Conferences : Conference
Electric Futures: First Delegate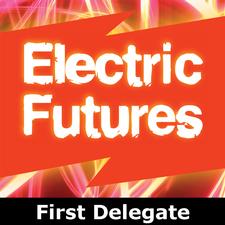 The confirmation email following a credit/debit card purchase is your ticket to this event.
All fees are payable in advance of the event. Delegates may be refused admission if payment is not received prior to the event.
If for any reason you are unable to attend, cancellations received in writing by 13/04/12 will receive a refund less an administrative charge of £100 + VAT. There will be no refunds for cancellations made after this date. Applicable promocodes must be redeemed at time of purchase. *Promocodes must be redeemed at time of purchase. They cannot be applied to an order after an invoice has been generated or a credit/debit card processed.
27 April 2012 | London

By New Transit
£235.00 +VAT in stock
UK Delivery included


An agenda setting event for all those engaged in the harnessing of smart energy solutions for transport.

The day will allow operators, suppliers, consultants, researchers and public authorities explore advances in technology, the business case for adoption and the environmental benefits which might be achieved.

Topics include:
How can public transport maintain its leadership in the green debate as cars re-engineer?

How being green help get us out of the red!

Improving the efficiency of public transport energy systems

Smart energy management

Case studies of applications

Innovations which are cutting energy costs

Eco driving and creating an energy conscious workforce

Hybrid Drive Systems – will they become the 'standard feature' for the future
...and much more