Documents/Reports : Supplements
LTT500: a 20:20 Vision of Transport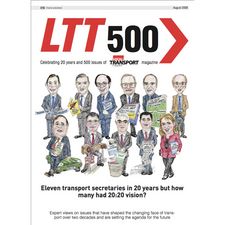 Product will be dispatched as soon as payment is received.
Paperback 224x335mm
ISBN/ISSN 978-1-899650-46
By Local Transport Today Ltd
£10.00 in stock
UK Delivery included

+£3.00 EU +£5.00 RoW

Eleven transport secretaries in twenty years. The supplement looks back on the policies and personalities, the schemes and the statistics of the last twenty years and includes leading experts' views on the agenda for UK Transport. This invaluable document contains all you need to know about the transport planning story so far and is one you will want to keep.

Contributors include: Edmund King, AA, Stephen Joseph, Campaign for Better Transport, Brian Smith, County Surveyors Society, Chris Cheek and Peter Huntley, TAS Partnership, David Quarmby, Independent Transport Commission, Bill Whyley, Transport Planning Society, Fran Garthwaite, Association of Transport Co-ordinating Officers, James Noakes, ACT Travelwise, Phil Goodwin, University of the West of England, plus many senior transport consultants.