Bus News: Issue 362 18 May 2009

Share this article:
First bus drivers boost Skills for Life on GMTV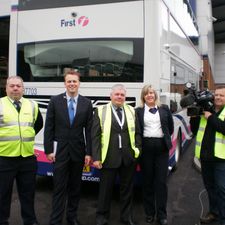 Left to right: Barry Young, GMTV reporter, Dave Pugh, Linda Coyle, GMTV cameraman
Meera Rambissoon
Two First bus drivers in Leeds appeared on national GMTV this week to highlight adult learning opportunities during National Learning Week (May 11-15).
Linda Coyle and Barry Young, like many of First's employees, have taken advantage of its Skills for Life learning and development programmes to improve their overall prospects and boost their literacy and numeracy, having both left school at around the age of 15.
GMTV was so impressed by their stories it interviewed them live to a TV audience...