Rail News Lead Story: Issue 304 9 Feb 2007

Share this article:
More articles like this...
Fares/ticketing, Mayor of London, Rail, ATOC, First, London Rail Companies, National Express, Other, Stagecoach, Transport for London, Greater London
Truce in mayor's Oyster battle as train operators fall into line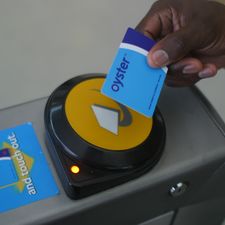 'A step in the right direction' for Oyster PAYG
By Robert Jack
after accusing train operators of dragging their heels, London mayor Ken Livingstone
has welcomed their outline agreement to accept Oyster Pay As You Go smart card
ticketing on their services.
Last May Livingstone offered operators funding of £20m to help cover the costs of installing the equipment needed to accept PAYG, but some operators are wary of the
financial impact of accepting PAYG.
However, one by one the majority of London's operators announced their intention to sign...