Regular Feature: Issue 312 1 Jun 2007

Share this article:
UK guests impressed by level of innovation from European and overseas public transport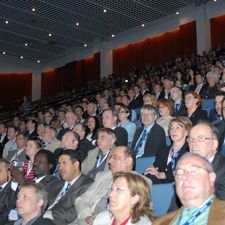 Some of the 2,000 delegates who attended the UITP World Congress opening ceremony
Only 60 of the 2,000 delegates at this month's UITP's 2007 World Congress were from the UK. But while there may not have been many of them, the UK passenger transport professionals who travelled to Helsinki were impressed by what they saw.
"This is the biggest gathering of transport professionals in the world," said Conrad Jones, head of communications at Centro-WMPTA. "We are here to look at best practice, find out what's new, talk to colleagues and...