Regular News: Issue 354 23 Jan 2009

Share this article:
Lockhead celebrates 20 years of First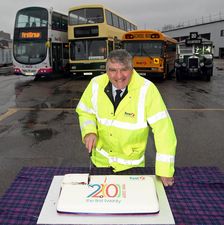 Sir Moir Lockhead this week joined colleagues to celebrate the 20th anniversary of the employee and management buy-out of Aberdeen's Grampian Regional Transport from its council owners.
The purchase of the business was the foundation for what is today First Group, a global transport business with annual revenues of £6bn, operations across the UK, in?Europe and North America.
Sir Moir Lockhead, who has been chief executive of the business since its inception in 1989, was joined...