Bus News: Issue 351 5 Dec 2008

Share this article:
Bus Users UK heralds successful Bristol event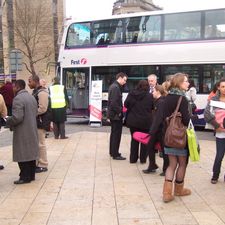 Passengers seemed to grasp the problems of bus operators at the surgery
BUS USERS UK and local bus company management were kept very busy at the Bristol bus users' surgery aboard a brand new First double-decker last week. The event saw a steady flow of people wanting to have their say throughout the day.
Despite negative publicity surrounding Bristol's bus services not so long ago, there seemed to be general acceptance among passengers that services are now improving.
Passengers also seemed to accept that many of the problems stemmed from issues...