Interview: Issue 350 21 Nov 2008

Share this article:
Hutch in buses 39 years longer than planned
Monoleto Hutchinson joined the bus industry because it paid better than others, but 39 years later he is still there. Meera Rambissoon spoke to him about his experiences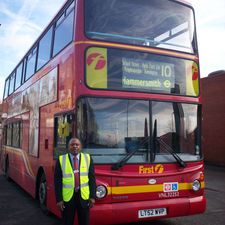 'Helping, staff, and seeing a lot of them gain promotion - it fills me with joy'
By Meera Rambissoon
Monoleto Hutchinson only planned to spend six months in the bus industry to earn some money, but nearly 40 years later, he has stayed for more than that. Having moved to London from Jamaica in the early sixties, Hutchinson started working as a bus conductor, in the capital in 1969. Promoted to bus inspector in 1983, Hutchinson was then sent to Westbourne Park garage where he still works, now as a staff manager - a role he has had under different titles since 1995.
"Hutch" as...