Other Columnist: Issue 350 21 Nov 2008

Share this article:
Re-inventing the rail station as the centrepiece of the local community
Gone are the days when the rail station was the hub of the community, says Paul Salveson. Northern, however, is looking to re-invent the small station, with the support of the community, through a strong partnership approach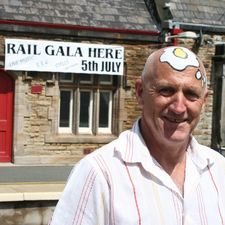 Stations should be places for community celebrations, says Salveson. Burscough Bridge held a station gala in July, where one man decorated himself suitably for the occasion
By Paul Salveson
Northern has 471 stations across its network and most of them are unstaffed. Many are in urban areas and face the sort of problems of anti-social behaviour common across much of the rail network. Even rural stations are not immune to vandalism and graffiti. This presents us with major difficulties but also opportunities. We are looking to 're-invent' the small station to bring it much closer to the community it serves. Getting the community positively involved is critical to that,...