Bus News: Issue 350 21 Nov 2008

Share this article:
National Express struggles as TfL league reveals Metrobus is the best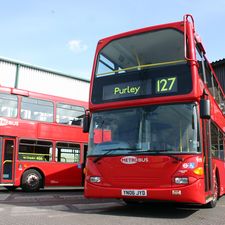 Metrobus captured the top spot in TfL operator performance league
By Andrew Garnett
National Express's London bus operations have been revealed to be the capital's worst performing, according to Transport for London performance statistics obtained by Transit.
During TfL's period seven between July 19 and October 10, Travel London managed an average Excess Waiting Time of 1.22 minutes against a London bus services average of 1.39 minutes. The operator did manage to beat the minimum performance standard for its contracted routes of 1.25 minutes.
Topping...