Regular News: Issue 321 5 Oct 2007

Share this article:
Cardiff Bus unveils new £2.5m bus fleet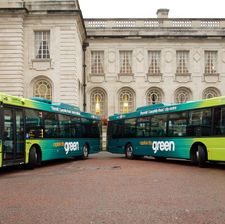 Council-owned bus operator Cardiff Bus has launched its new fleet of 15 Scania Omnicity buses, six of which will be used on its newly branded Capital City Green route linking the city centre with Thornhill via Llanishen.
The remainder of the vehicles from the £2.5 million order will be used on three city routes, and all feature an enhanced internal specification based on that devised for its bendy bus fleet launched 18 months ago. Features include full air conditioning, a passenger...