Uniforms Lead Story: Issue 234 1 Sep 2011

Share this article:
Promotion: Help your CEOs weather the storm
No more wet, miserable CEOs with Keltic's patrol jackets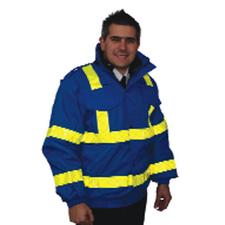 The weatherman is predicted higher-than-aver-age rainfall this Autumn, with Winter bringing even more snow and extreme cold than last year. Leading uniform supplier Keltic Clothing believe they have the prescription for keeping the UK's Civil Enforcement Officers (CEOs) dry, warm, safe and happy. "CEOs do a really difficult job keeping traffic moving and dealing with irate motorists" says Director David Barry "and it's things like leaking jackets that can push them over the edge. It costs up to £4000 to train a new CEO, and if getting soaked through every day contributes to a CEO leaving, not only is it unfair on the CEO, but that investment is not being adequately protected" says Barry.

"Our new Patrol jackets have industry-leading test results for waterproofing, breathability and reflectiveness, and they come in 30 colours from stock" says Barry. In time for what weathermen predict will be the harshest Winter since 1963, Keltic's jackets now include a smart, warm removable fleece. "Our customers are getting 3 jackets in 1 now that our Patrol jackets include a fleece, which helps the strained budgets of many local authorities" says Barry.
Waterproofing that lasts a lifetime

Keltic began life in the 1980s manufacturing wax jackets in a small West Midlands factory. As fashions changed, they moved on to police and traffic warden jackets, and then branched-out to become a one stop uniform shop. "Our roots are in outerwear" explains Barry, "so we're in a position to dispel various myths. For instance, there's no such thing as 100% waterproof or 100% breathable –any fabric will eventually be permeated by water if enough pressure is applied over enough time."
The European standard for waterproofing and breathability – EN343 protection from rain – is what buyers should use to assess a jacket, says Barry. "There are 3 levels at EN343 – and our Patrol jackets are 8 times more waterproof and breathable than the highest level (Class 3). Please compare this to the other jackets on the market – we believe we'll come out on top." EN343 also states that staff working in extremes of temperature – which includes CEOs – should be provided with clothing that meets EN343 Class 3 breathability. "Many hi vis jackets on the market aren't EN343 Class 3 breathable" says Barry.
Keltic's Patrol jackets are the latest in a stable of innovative products designed by Keltic to improve the daily working lives of CEOs. They use the latest fabric technology to solve an age-old problem with jackets. Barry explains further – "Most fabrics are waterproof-coated, which means that a jacket will become less waterproof over time and with washing. Keltic's Patrol jackets uses revolutionary new membrane technology, meaning our jackets retain their waterproofing for the full life of the garment. If you want to investigate the technical details further, take a look at our website which provides all the facts and figures you need."
Keltic Clothing is currently offering a free jacket from their patrol range to the first 10 local authorities to contact them and mention this article.

08450 66 66 99