End of the line: Issue Issue 17 15 Nov 2010

Share this article:
NB4L pole assault
Borismaster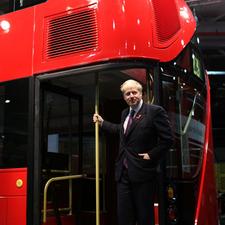 One step for a mayor, one giant leap for bus design
The media poured en-masse into the London Transport Museum's Acton Depot in mid-November to view the full-size mock-up of Boris Johnson's New Bus for London project. And it was clear that Boris was as happy as a sand boy to see a full scale recreation of his election pledge, sorry, pet project. But perhaps he was a little too enthusiastic?
Jumping on the back of the mock-up he firmly grasped the centre pole which, perhaps inevitably given that it is still a mock-up made of lots of fibreglass and MDF, promptly gave way.
Luckily the mayor provided to be quite the DIY expert. Quickly replacing the pole back into its slot he exclaimed: "I can assure you that won't happen on the real thing!"