End of the line: Issue Issue 08 25 Jan 2010

Share this article:
Life after London
Bye bye bendy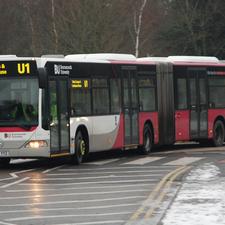 Gentle retirement by the sea?
The countdown is now on for the demise of the bendy bus in London. So are they being pensioned off to airports in Scandinavia as mayor Boris Johnson promised??Well not quite. The last month or so has seen two of the major groups announce second lives for their recently withdrawn bendys.
Arriva is rumoured to be planning to move a batch of bendys to Liverpool.
Meanwhile, Go?Ahead, the largest London bendy operator, is treating some of the vehicles deposed from the Red Arrow network to a gentle retirement on the south coast. In Bournemouth a single example is now in service, amid much acrimony from local residents. Luckily for Go?Ahead there's no Boris Johnson in Bournemouth.