Products & Services: Issue Issue 08 25 Jan 2010

Share this article:
Britain's rail passengers still waiting for the loo
Survey reveals the areas where rail users most want to see investment at stations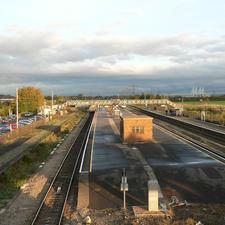 Severn Tunnel Junction had the lowest user satisfaction score of the stations in the survey
Robert Jack
Passengers want to see more station toilets, waiting rooms and better information on train arrival-times prioritised in works to improve small and medium-sized stations, according to a survey carried out for Passenger Focus and Network Rail.
The national passenger watchdog has asked passengers their views on what improvements should be made to small to medium-sized stations as part of planning for the five year National Stations Improvement Programme (NSIP).
NSIP has been designed to improve facilities at a minimum of 150 small to medium-sized stations. As part of the programme, Passenger Focus and Network Rail have commissioned research to measure passengers' perceptions of the stations before and after works are undertaken at 25 stations.
Passenger Focus has now published findings of the 'before' research which shows passenger satisfaction is lowest with cycle and car parking facilities. There were high levels of dissatisfaction with the condition of toilets, station facilities and the availability of waiting rooms.
Respondents were asked to select from a list, up to four facilities they feel it is important to have at their station. The top three were:
clear visual information as to when trains will arrive - 53.9%;
staff at the station - 53.0%; and
toilets - 44.8%
"This research backs up what passengers tell us time and time again," commented Passenger Focus chief executive Anthony Smith. "Station staff and plenty of information are crucial to passengers as they offer reassurance, security and advice and therefore should be key in planning.
"Passengers continue to ask for more toilets and better facilities, we want the industry to start listening and act on passengers' requests."
Passengers using the 25 stations will be resurveyed after completion of the works next year. The research will help determine whether the station improvements made have had a positive impact on passenger satisfaction and what areas future investment should focus on, as the programme continues.
A spokesperson for the Association of Train Operating Companies said that train operators expect to see a significant rise in passenger satisfaction at the stations in the survey once the work has been carried out later this year.
ATOC claims that reform of the franchising system to give train companies more responsibility for investing in stations is one way of speeding up improvements. "We estimate that train companies could save over £250m from the station improvement budget – money that they would use to plough back into providing passengers with better stations," the spokesperson said.
"Equally, moving to longer franchises of 15 years or more would allow train companies to bring more private sector funding into stations to improve services for passengers."
---
Rail Stations in the spotlight
The ninth annual Rail Stations Conference, presented by New Transit, will discuss the latest thinking in station design and management. Speakers include Tom Smith, chairman of the Association of Train Operating Companies and Chris Green, one of the government's 'station champions'. The event will take place at the Grosvenor Hotel in London on February 24. For details call Abbie Sharland on 020 7091 7865 or go here.