Main editorial comment: Issue 594 13 Apr 2012

Share this article:
In Passing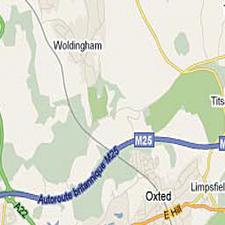 After the Prime Minister's speech last month calling for more private sector road investment in England's roads, LTT can exclusively reveal that the M25 is to be sold to the French. How do we know? Well, while doing a bit of research on the Highways Agency's 'managed motorway' programme, we stumbled across this map on the HA's website. The village names sound English enough but check out the motorway, or rather, the 'Autorroute britannique M25'! Note to HA: the webpage to change is http://www.highways.gov.uk/roads/documents/Business_Case___M25_J5_6_7.pdf
---
Our item on the cost of congestion to UK plc generated interest and amusement. One reader has bettered our top figure of £30bn, pointing out that, in evidence to the House of Commons transport committee in 2008, the Campaign for Better Transport estimated the external costs of motoring were £70.6bn-£95.3bn (2006 prices), of which the lion's share was congestion (£60bn-£68bn a year). The discussion has also taken an international twist, with Pete Costello pointing to a Texas Transportation Institute report putting the cost of congestion in the US at "more than $100bn" in 2010. $100bn=£63bn, the same as the CBT's UK estimate!
---
News has reached LTT of a seminar to debate the topic of 'peak car' theory so beloved of our columnist Phil Goodwin. Indeed, Phil is one of the four experts down to speak at the half-day event on 25 April. We are particularly intrigued about the venue, because it is scheduled to take place at the DfT's HQ in Marsham Street. Which is interesting because the DfT formally rejected the peak car hypothesis in its new National Road Traffic Forecasts (LTT 16 Mar). So why is the Department hosting this event? In a spirit of openness and the free exchange of information and opinions? Or is something more sinister at work? Are Phil and his fellow peak car 'heretics' actually going to find themselves incarcerated (in-car-cerated – geddit?) in a dank Marsham Street basement until they recant, Galileo-like? Only time will tell.
---
Talking of peak car… You can tell that something is in the air when even motoring journalists are making reference to the idea. In a recent Times article, self-confessed petrolhead Stephen Bayley came up with the following. "This is a precarious moment for the motorcar. Young urban tastemakers, even if they can afford the indulgence, are disenchanted by the automobile. For them it is less an instrument of escape than an oppressive encumbrance. The machine intended to liberate instead imprisons them with expense, bureaucracy, environmental stigma and the heavy threat of prosecution." Time to proclaim the end of an era, anybody?