Regular news: Issue 607 12 Oct 2012

Share this article:
Bristol approves twin-track work on bus QCs and partnerships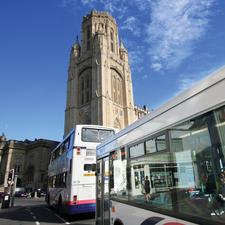 Bristol: bus QCs?
Bristol City Council has approved investigations of both bus Quality Contracts and a partnership agreement with operators in an effort to improve the city's bus services.
The council's Liberal Democrat cabinet last week authorised the appointment of consultants to develop a business case for a QC, whilst also inviting operators to work on a partnership model.
The decision comes just weeks before the election of a directly-elected mayor for the city on 15 November. A council spokeswoman said the council would seek consultants to undertake the QC?study in the New Year, "subject to the endorsement of the mayor".
Liberal Democrat mayoral candidate Jon Rogers has pledged to implement a QC if elected (LTT 28 Sep). But fellow Lib Dem, councillor Tim Kent, Bristol's cabinet member for transport, told LTT?this week that Rogers' primary focus was on "outcomes rather than the way you get there". Rogers wanted to see simplified, cheaper fares and more services. "We're equally interested in partnerships ... but I think we would be negligent were we not to look at this [QC] legislation," said Kent.
Peter Mann, Bristol's service director for transport, told councillors that on-road competition between bus operators in Bristol was "extremely limited", with FirstGroup carrying 88% of journeys in 2011.
Mann presented a comparison of First's fares in Bristol with the company's fares in Leeds and Transport for London's fares structure. This showed that Bristol's were "relatively expensive" although the First day ticket was "reasonable value".
Ticketing arrangements were "unsatisfactory", added Mann. "It took years of discussion to introduce the multimodal/operator freedom travel pass, the take-up of which has been low due to the high price insisted upon by the operators," he said.
Operators recently launched a bus-only Avon Rider ticket (LTT 3 Aug) but Mann said this was only available for the whole of the West of England area (Bristol, South Gloucestershire, North Somerset and Bath and North East Somerset). "Furthermore, in developing the scheme the operators did not engage with the local transport authorities (LTAs), which has created a problem with contracted services for which the LTAs carry the revenue risk."
Operators had also been unwilling to share patronage data about the effects of the Greater Bristol Bus Network (GBBN) investment, said Mann, a project that received £42m from the DfT. But Kent said this week that, since Mann's paper was written, operators had agreed to provide data for GBBN?corridors.
Mann said that because Bristol's urban area and bus networks extended beyond the city's boundaries and into neighbouring South Gloucestershire "it would be highly desirable for any [QC] scheme to incorporate the entire Bristol area and a significant part of South Gloucestershire".
A QC could deliver a stable, high frequency network; integrated ticketing; political control of fares and vehicle specification to achieve policy objectives; competition for the market; cross-subsidy of routes; and a better framework for integrating transport and land-use planning.
But Mann acknowledged there were also drawbacks and risks. A QC would preclude access to the DfT's new Better Bus Area (BBA) grant (LTT 14 Sep). Asked why Bristol remained interested in QCs even though the DfT's draft rules prevent QC areas accessing BBA?funds, Kent told LTT: "I'm sure once they [the DfT] have completed their [BBA] consultation they may change their mind."
Mann said introducing a QC could take "up to five years" and, unless there was cross-party support, "there will be a significant risk that the process is not seen to a conclusion, incurring very high levels of abortive costs".