Regular news: Issue 604 31 Aug 2012

Share this article:
Norman Baker unveils new cycling guidance for stations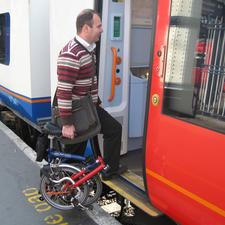 Local transport minister Norman Baker has unveiled guidance for train operators and local authorities designed to improve facilities necessary to increase the number of train passengers cycling to stations.
The Cycle-Rail Toolkit produced by the Association of Train Operating Companies and endorsed by the DfT recommends measures to encourage new cyclists for journeys to train stations. It aims to build on the 40% increase in cycling to train stations from 2007 to 2009, given that 60% of the UK population lives within a 15-minute bicycle ride of a station.
The guidance acknowledges that reduced car parking would have an impact on revenue but states that, where there is limited available car parking capacity, this will limit growth in train service patronage.
"Encouraging existing passengers to cycle can free up car parking for new customers. One car parking space accommodates eight bicycles," the guidance says.
The document says that catering for increasing amount of folding bicycles is "unlikely to be a complete solution because they compete for luggage space and passenger space". Instead, it advises measures to accommodate bike use at both ends of journeys or to provide 'PlusBike' tickets that include bicycle hire and a train journey for one fare.
Baker said in the foreword: "By granting longer and more flexible franchises, we give the private sector a stronger incentive to invest in the improvements passengers want, including better cycle facilities at stations."
Norman Baker will present his guidance at the ATOC Interchange and Integrated Transport Conference on the 27 September 2012