Regular news: Issue Xtra 6 Feb 2014

Share this article:
Destroyed Dawlish railway: McLoughlin orders review of South West England rail network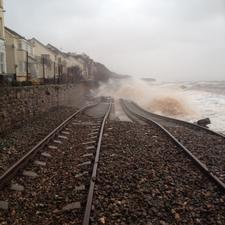 The railway line on the south west coast at Dawlish was swept away yesterday
Lee Baker
The transport secretary has pledged to develop "a long-term solution to the resilience of the railway network in South West England".
Patrick McLoughlin has ordered a report to be produced on the options for addressing the problem of the vulnerability of the railway line from Exeter to Plymouth and Penzance in the future. In the meantime, he wants the line "to be brought back into service as soon as possible".
On the coast at Dawlish around 80m of both tracks were yesterday severely damaged by the sea, washing away ballast and the foundations on which the track is built. There is also severe damage to the sea wall and the track and platforms at Dawlish station.
Dr John Disney, a former advisor to the DfT, who told The Guardian that it was "entirely predictable that the sea was going to... sweep away Brunel's coastline railway," suggested re-opening an alternative inland railway line through Devon" to enable through electric trains to operate from London to Plymouth.